US to Probe Scandal Involving Wetangula and Karua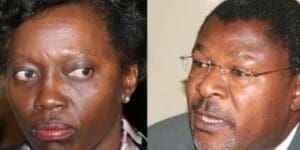 American legislators now want the US Department of Justice (DOJ) to carry out immediate investigations on the British American Tobacco (BAT) company, following bribery allegations involving policymakers and politicians in East and Central Africa.
The infamous scandal involved Kenya's top politicians, Bungoma SenatorMoses Wetangula and Narc-Kenya party leader Martha Karua, who were allegedy bribed to bend laws that would favour operations of the tobacco firm in the country.
In a letter to the DOJ, the Senators argued that BAT's actions may have violated both the Anti-Bribery and the Books and Records provisions of the Foreign Corrupt Practices Act (FCPA).
The petition, which was signed by four US senators, indicated that BAT may have tried to interefere with health policies through bribing politicians in Africa.
"If true, these allegations would show that BAT, which holds a 42 percent share of US-based Reynolds American, Inc., attempted to unduly influence and interfere in the World Health Organization's global tobacco treaty (to which the U.S. is a signatory) and public health policymaking at the national level throughout Africa," the petition read in part.
BAT's bribery claims were first reported in an investigative documentary aired on BBC, in which Wetangula and Karua the then Ministers of Trade and Justice respectively were mentioned.
According to the documentary, in 2012 Wetangula was bribed with a business class flight ticket to London, booked for his wife by the tobacco firm.
Karua on the other hand, was reportedly paid Sh7.6 Million (£50,000) in a bid to block a rival firm from winning a multimillion-pound contract.
In the expose, the bribe, which is termed as a political donation, was purpotedly issued to Karua as she vied for the presidency in 2013 to prevent a competing company from supplying technology to combat cigarette smuggling.
The two leaders have, however, denied the allegations that were revealed by a former BAT employee in Kenya, Paul Hopkins.
After the emergence of the expose, Wetangula moved to court to sue the BBC over the claims.
-kenyans.co.ke