VIDEO: Ruto Takes Revenge on Duale 2 Years Later
VIDEO: Ruto Takes Revenge on Duale 2 Years Later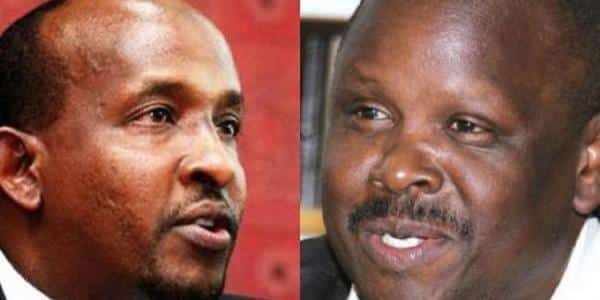 Bomet Governor Isaac Ruto was a happy man as he took his opportune moment to hit back at National Assembly Majority Leader Aden Duale, after the recent unveiling in the National Youth Service (NYS) corruption saga, that linked him (Duale) to the dubious deals.
Ruto's revenge to Duale comes two years later, after the Majority leader attacked the Bomet Governor with the popular 'hii pesa si ya mama yako'remark.
During a public meeting, Ruto gloated over the current quagmire facing Duale, after the shocking revelations found in former Cabinet SecretaryAnne Waiguru's affidavit.
He mockingly told Duale, "Wewe Duale tunakuambia hapa Brook, rudisha hiyo pesa ya NYS. Hiyo pesa siyo ya mama yako" Duale we are telling you from Brooke (a region in Kericho). Return funds from the NYS. That money is not your mother's.
The Bomet Governor continued to ridicule Duale saying, that the crowds he used to surround himself with had left him out in the cold.
"Leo niliona akiwa pekee yake kwa television. Kawaida yeye anapangaga watu karibu arobaini. Leo niliona akiwa yeye pekee yake, akisimama tu ati mimi sijachukua mimi sijui." Today I saw him alone during a press conference. He is usually escorted by almost 40 peolple who line up around him. Today he was alone trying to defend himself. Ruto said.
In 2014, Duale told off Ruto, the former Council of Governors chairman, after his spirited fight to drive funds from the Central Government to the counties.
Ruto had started to collect signatures to champion the Pesa Mashinani Campaign but Duale publicly humiliated his efforts.
VIDEO: Ruto Takes Revenge on Duale 2 Years Later