CHIEF CAUGHT ON TAPE DRUNK SACKED, TO FACE CHARGES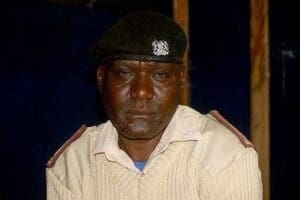 An assistant Chief in Nakuru caught in camera drunk while clad in uniform during President Uhuru Kenyatta's visit to the region last week has been sacked.
Rift Valley regional coordinator Mr Wanyama Musiambo confirmed the sacking on Wednesday morning and said the assistant Chief will be will be charged in court with abetting sale of illicit brews.
Mr Musaimbo said the assistant Chief was undermining government's efforts in fight against illicit brews
"The assistant Chief has been dismissed from service with immediate effect. He is a disgrace and has betrayed the government which is determined to end sale and consumption of illicit liqour,"said Mr Musiambo.
SOCIAL MEDIA
The Mawingu sub-location assistant Chief Joseph Wycliffe Rotich was captured on tape while drunk and the clip shared widely in social media.
The viral video prompted the regional coordinator to summon the assistant Chief for interrogation.
"He has confessed to being drunk while on duty which is against the law. But he said he had just taken a little chang'aa,"said Mr Musiambo.
The video showed the chief rolling on the ground at a drinking joint in Murinduko shopping centre in Kuresoi North while under the influence of illicit brew.
"My name is chief Rotich and I am the most drunken chief in this region. I have accepted that and I am never shamed," the chief is heard uttering the words in the video clip.
MESSAGE TO UHURU
His message to President Uhuru in the clip was: "I must drink, don't bother with me. I am a man and I was ordered to do so during my initiation to adulthood."
The administrator initially served with the Kenya Army and the General Service Unit between 1977 and 1991 before quitting.
Mr Rotich, popularly known as 'Survivor', said he drank a little during the President's function, but was never caught because he is "very tricky".
His colleague who sought anonymity since he is not allowed to speak to the press said the officer was taken home  from the President's function by a Good Samaritan who found him drunk.
-nairobinews.nation.co.ke
VIDEO: Watch a Nakuru chief get totally drunk. He dismisses President Uhuru Kenyatta's directive on illicit brew ban, saying 'lazima nikunywe'. Source: Bernard Waweru.

Posted by HiviSasa.com on Tuesday, March 22, 2016