Governors with most number of bodyguards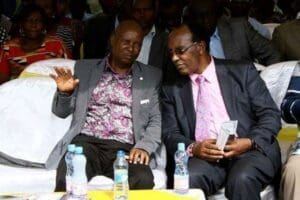 As the government moves to slash the number of security personnel attached to governors to five, the county chiefs are still the most protected people in Kenya, with some of them having as many as 16 bodyguards.
In Nakuru, Governor Kinuthia Mbugua a former Administration Police commandant, enjoys round-the-clock protection of 10 armed bodyguards.
His two homes are also heavily guarded.
He arrival at events with a security detail resembling that of the President and has three chase cars.
It is, however, said he inherited part of his security team from his days as the AP boss.
In Nairobi, City Hall sources said Governor Evans Kidero has 16 bodyguards and many other untrained security personnel.
The communication director in the governor's office, Mr Walter Mong'are, on Monday refused to say how many officers were attached to the governor, citing security fears.
He, however, said there had been no official communication on cutting the number of guards.
"The National Government has not issued any communication and all the governor's officers are on duty," he said.
Mr Mong'are said Dr Kidero had acquired additional security from the county government to help the national government team.
RESOURCE WASTAGE
The source said the governor should have three to five guards at his office, five following him and four at his house.
Last year, the National Assembly's Public Accounts Committee said it was investigating the irregular hiring of 24 personal security staff for Dr Kidero.
In the North Rift, most governors have between three and five bodyguards.
The governors also have an average of three chase cars, a situation residents complain is a waste of public resources.
Nandi Governor Cleophas Lagat has two AP bodyguards and two chase cars.
"The government needs to reduce security guards for officials and increase the numbers in frontier areas like northeastern and volatile areas in the North Rift," said a Nandi resident, Mr Mathew Lang'at.
In Turkana, Governor Josphat Nanok has two bodyguards from the central government and one chase car, according to area police boss Joel Kirui.
Due to the region's volatility, Mr Nanok, however, has his own security arrangement where he employs Kenya Police Reservists when he tours dangerous areas.
His Baringo counterpart, Mr Benjamin Cheboi, also has also two bodyguards and one chase car.
Bungoma Governor Kenneth Lusaka has a similar number of chase cars, one for the security detail and the other for his press team.
The situation is the same in Trans Nzoia and West Pokot, where Governors Patrick Khaemba and Simon Kachapin have two bodyguards each.
-nation.co.ke