JILTED MAN HIJACKS EGYPTAIR PLANE TO SEEK REUNIFICATION WITH EX-WIFE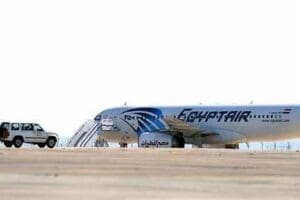 A love-struck man hijacked a plane belonging to EgyptAir on Tuesday and diverted it to Cyprus, before demanding to speak to his alleged ex-wife, in what highlights the great lengths men will go for love.
Various media reports indicate that the hijacker, who has since been identified as Ibrahim Samaha, had released all the passengers except four foreigners and the crew.
The Guardian reports that the man reportedly asked for asylum and demanded to see his estranged, Cypriot wife called Marina Parashkou to whom he claims he was once married.
The newspaper adds that the woman has since been taken to the airport to take part in the negotiations.
She has apparently been handed a letter from the man.
Cypriot leader Nikos Anastasiades ruled out terrorism, confirming instead that it had been instigated a man bent on reuniting with his former wife.
"It's all to do with a woman," said the Cypriot president. "We are doing everything to release the hostages."
Egyptian civil aviation said the hijacker had threatened to detonate an explosives belt on the EgyptAir flight which was diverted to Cyprus's southern coastal city of Larnaca, according to AFP.
EgyptAir said on Twitter that "negotiations with the hijacker" had resulted in "the release of all the passengers, except the crew and four foreigners."
The identities of the foreigners was not immediately clear.
-nairobinews.nation.co.ke