Sonko Ready for Those Planning to Kill Him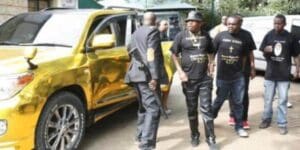 Nairobi Senator Mike Sonko has warned those planning to assassinate other politicians not to risk trying him as he is prepared to take on them.
The Senator on Wednesday expressed his discomfort with the current political environment, stating that the game had become so dirty and competitors were scheming to execute one another.
"Politics is dirty. There are cowards planning to kill others. With what is ongoing I will not take chances anymore try me at your own risk," warned Sonko on his Facebook timeline.
Nearly two weeks ago, the Sonko's bodyguard was shot dead in Mwiki area, Kasarani, moments after dropping the Senator.
The Nairobi Senator then expressed his fear claiming that he could have been the assassin's target.
Last year, five people were arrested for allegedly trailing Sonko for more than five hours from Machakos to Nairobi.
The five were said to have followed the Senator's entourage in two Porsche vehicles and made stopovers at every point that Sonko stopped.
It was reported that Sonko's security officers shot severally in the air when they reached Nyali in an attempt to scare away the suspects. The Senator's security detail later on arrested and handed the suspects to police officers.
-kenyans.co.ke