THE FOREIGN NURSES GUIDE TO SETTLING IN AMERICA

THE FOREIGN NURSES GUIDE TO SETTLING IN AMERICA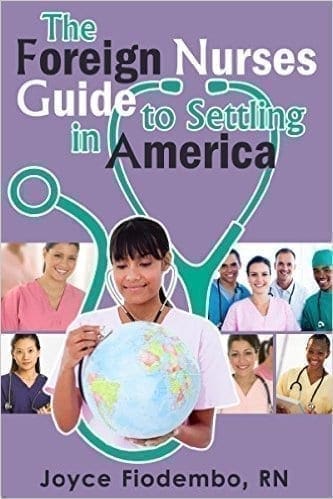 The Foreign Nurses' Guide to Settling in America is an instructive and unique resource you can keep at your fingertips, if you are a foreign nurse who is currently living or planning to settle in America. Arriving in the States is just the tip of the iceberg for adjusting to this fast-moving country. You will face challenges that change your life and having a nurse's perspective handy in your pocket can make all the difference in the world. Give yourself the best support available by seeking out an in-depth, insightful, and intelligent guide to not only help you settle in, but to help you succeed and thrive.
Before you can thrive, you have to get the facts first and prepare yourself. Equipping yourself to succeed as a foreign nurse means being proactive. Use this guide to prepare yourself now; this will make a softer landing in the work force. This book gives you personalized insight and detailed information about what challenges you can expect to face. Accelerate your adjustment with the help of a guide, whether you are a foreign nurse migrating from abroad, or a resident nurse who was not trained in an American nursing school. Even if you trained in America but originated from another country, there is a lot you can benefit from reading this book. In this global world, having a book like this can give you the support, courage, and confidence to unlock your potential and succeed while settling in a new country.
In this book, you get a behind the scenes look at staying competitive as a nurse in America. You will get tips on how you can pass the American national license exam (NCLEX) which is necessary before you can practice in the country. Additionally, this guide provides you with secrets and detailed information on passing the tricky and challenging "Test for English as a Foreign Language" (TOEFL) exam; a true obstacle to success for foreign nurses.
Nurses know that an absolutely pivotal part of nursing is communication. Settling into a new culture isn't always a pleasant experience if you struggle to communicate. Sometimes you stand out from the crowd simply by not fitting in with the crowd. A foreign accent can be a difficult obstacle to communication that can damage your confidence and your ability to succeed as a nurse. This guide provides you with support on communicating with patients and with coworkers in one complete package. Get ahead in your work through growth in communication skills. Great communication skills will give you the potential and opportunity for promotion in the workplace.
This guide also explains a foreign nurse's perspective on cultural differences in America. Moving to a new country and finding a new culture, changes your life. What was easy before becomes complicated and you can become vulnerable to being exploited especially without support. Even though we live in a global world, it's highly recommended that you receive instructive and in-depth insight on settling in America. Cultural differences can absolutely affect things such as resume expectations, interactions with coworkers, and above all for nurses, patient needs. Patient's expectations are different in different cultures. If you want a positive, lasting impression with a patient, you must understand what their needs and expectations are. That's what makes this guide truly vital. A complete range of cultural guidance and tips will help you become equipped to settle in America as a foreign nurse.
Settling in America is an adrenaline packed experience that will change your life. As a nurse knowing the symptoms and signs before you see the patient is the key to succeed in your profession. The same is true for migrating as a foreign nurse; get ahead, get the facts, and intelligently prepare yourself to succeed as you settle in America. The benefits that this book provides truly make it an invaluable and vital purchase. This guide was written to support and to help nurses like you to settle and succeed in America.
By Joyce Fiodembo
GET YOUR COPY HERE-http://www.amazon.com/Foreign-Nurses-Guide-Settling-America-ebook/dp/B00GI1ZZ6E
THE FOREIGN NURSES GUIDE TO SETTLING IN AMERICA