Kenya Climate Innovation Center seminar
Left _ Edward Mungai(CEO, KCIC) _ Right _ Professor Judi Wakhungu, CS Ministry of Environment, Natural Resources and Regional Development Authorities, Nairobi _ Anatole Krattiger, Director, WIPO
Facilitating the Transfer of Climate Technologies in East Africa-Nairobi, Kenya 5th April 2016
Leading East Africa organizations pioneering the improvement of agriculture and food production, and clean water supply in East Africa, have congregated in Nairobi, under the latest round of Facilitating the Transfer of Climate Technologies in East Africa Forum.
Organized by the World Intellectual Property Organization (WIPO) and the Climate Technology Centre and Network (CTCN), in cooperation with Kenya Climate Innovation Center (KCIC), Africa Agricultural Technology Foundation (AATF), and Strathmore University Center for Intellectual Property and Information Technology Law (CIPIT) with the support of the Japan Patent Office, the forum is taking place from 5th – 7th April 2016, in Nairobi, Kenya. Chief Guest is Prof. Judi Wakhungu, Cabinet Secretary Ministry of Environment, Natural Resources and Regional Development.
The objective of the forum is to hold high level discussions around technology transfer and climate change adaptation and mitigation, to facilitate matchmaking between agriculture and water technology seekers from sub-Sahara Africa and technology providers, and to link climate change goals with business contribution.
Green technologies have been identified as key to building resilient economies in developing countries. The event has brought together thought leaders who will share valuable insights with green technology seekers, technology providers, financiers and other development partners that are working to build a greener world.
By harnessing science to reduce water and pesticide usage, and to pioneer greener modern farming, East Africa is leading the way in boosting agricultural productivity.
Investing in pioneering agri-tech and water projects like these is a win-win position for Kenya and the rest of Africa as these technologies will improve food production and create businesses and jobs around the country.
About KCIC
The Kenya Climate Innovation Center (KCIC), is a cutting edge facility offering services to a growing network of climate innovators. The Center provides incubation, capacity building services, access to information, an enabling ecosystem as well as access to finance to ventures that are involved in agribusiness, water and sanitation and renewable energy. The center currently supports 126 clean technology small and medium enterprises. KCIC is an initiative supported by the World Bank's infoDev and is the first in a global network of CIC's being launched by infoDev's Climate Technology Program (CTP). The KCIC is funded by the United Kingdom's UKaid and the Danish Ministry of Foreign Affairs.
About CTCN
The CTCN is the operational arm of the UNFCCC Technology Mechanism, hosted by the UN Environment Programme (UNEP) and the UN Industrial Development Organization (UNIDO). The Centre promotes the accelerated transfer of environmentally sound technologies for low carbon and climate resilient development at the request of developing countries. CTCN provides technology solutions, capacity building and advice on policy, legal and regulatory frameworks tailored to the needs of individual countries.
About WIPO
World Intellectual Property Organization (WIPO), is a specialized United Nations (UN) agency created in 1967 to encourage creative activity, promote the protection of intellectual property (IP), and ensure that the international IP system works to help meet development needs in a changing world. The institution also hosts WIPO GREEN: The Sustainable Technology Marketplace, which is an online platform that seeks to connect green technology seekers to corresponding green technology owners from around the world.
About AATF
African Agricultural Technology Foundation (AATF) is a not-for-profit foundation, managed and led by Africans to foster public-private partnerships for the access and delivery of appropriate technologies for improved agricultural productivity. AATF was incorporated in the United Kingdom in January 2003 and registered in Kenya, its host country, in April 2003. AATF is also registered as a charity under the laws of England and Wales. The Nairobi-based AATF's vision is prosperous farmers and a food secure Africa, enabled through AATF's catalytic role in bringing innovative technologies to smallholder farmers.
About SU-CIPIT
The Centre for Intellectual Property and Information Technology Law (CIPIT) is a part of Strathmore Law School, and is an innovative Centre for evidence-based research and training in intellectual property and information technology law and policy. CIPIT provides practical courses and seminars targeting lawyers, business professionals, venture capitalists, media houses, and start-up incubators in areas of intellectual property law.
Contact: Ernest Chitechi
Kenya Climate Innovation Center
Email: [email protected]
By Christine Kiai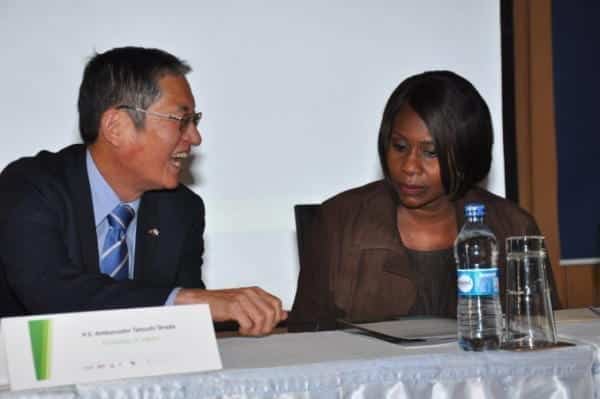 Left,_ H.E.Ambassador Tatsushi Terada, Embassy of Japan, Nairobi   _  Right_ Professor Judi Wakhungu, CS Ministry of Environment, Natural Resources and Regional Development Authorities, Nairobi