Kenya's top 10 most romantic public couples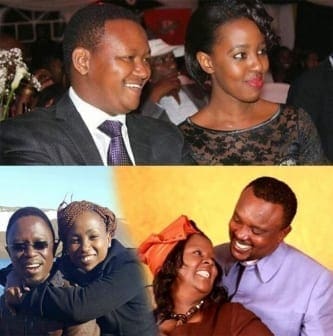 The downside of local public figures is their hubris, the miasma of work. Romance or even the slightest affection toward their partners is commonly viewed as a weakness. Do some call it 'kukaliwa chapati?'
Many men in the public limelight — no matter how much they get wobbly in the knees at home — would rather die than be seen in public with their spouses. Okay, Madaraka Day and other national holidays meant some had no choice, and that dance broadcast live over New Year showed Kenyans how their leaders long learnt how not to step on their partner's shoes during the hold my waist dance.
However, the few ones below have had no qualms expressing Public Displays of Affection:
1. Rev Allan and Kathy Kiuna
Perhaps, the most elegant, fashionable and flamboyant middle-aged preachers in the country. They are admired by more than their faithful for their very public relationship, when they are not ministering at the  Jubilee Christian Church. Rev Kiuna said on KTN's Cross Over programme that he has saved his wife as 'Baby' and she him as 'Honey Bunch.'
They are often photographed together and hate them or love them; they are quite the photogenic couple. They have graced a couple of lifestyle magazines including True Love.
Their life is deemed fairy-tale like. Kathy has become a role-model for the young, saved and upwardly mobile woman in Nairobi who attends her Woman Without Limit sessions.  Alan is your typical charismatic, evangelical preacher who can pass for an alpha male, exuding all that energy on the pulpit, making him a magnetic force.
2. Ababu Namwamba and Priscah Mwaro
Opinion was sharply divided when the Budalangi MP  scattered photos of him and wife Priscah Mwaro all mushy in Iceland (of all places). Men thought Ababu was under pressure to prove something. They castigated him as 'un-African'. Women, on the other hand, prayed that Ababu becomes a shining example to Kenyan men they consider unromantic. Tough luck.
Either way, the two were seemingly happy and having the time of their lives. It is the first time a Kenyan MP had openly shared his photo with a wife vacationing out of the country.  And Ababu might be relieved, for the distraction the photos generated. He needed that breather after a stretch of unflattering publicity.
3. Dr Alfred Mutua and Lilian Ng'ang'a
Alfred Mutua is what many women will describe as handsome and eloquent.
Lilian Ng'ang'a is as beautiful as they come. Together they make the loveliest political couple in the gubernatorial category. Except for the niggling problem that Mutua left his first wife for the younger, comely Lilian. But he seems to have blocked his ears to that. And in every public occasion Alfie is in constant company of Lily. His WhatsApp profile reads: 'Happy, blessed and loved. God is Good.'
4. Mwai and Lucy Kibaki
Retired President Mwai Kibaki's first term as Kenya's third president was marked by several unscripted soap operas starring temperamental wife Lucy Kibaki in the lead role.
Remember Kibaki calling a special press conference to tell the country (then reeling under inflation, bad roads and joblessness) that he had only one wife in March 2009? This was after media speculation of current Othaya MP, Mary Wambui being his second wife.
Flanked by Lucy and senior government officials,  a visibly perturbed Kibaki said: "I want to make it very clear that I have only one dear wife, Lucy, who's here, and I do not have any other."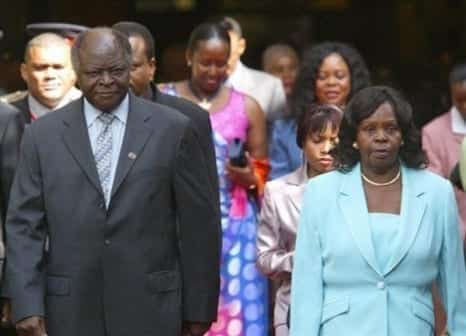 On her part, an angry Lucy, who has since faded from the public limelight said: "You (media) keep tormenting us, I don't know what you get out of it."
In 2005, Lucy stormed the offices of the Daily Nation to protest against its portrayal of her and her family, slapping a cameraman who filmed the incident. Two years later she slapped an official who mistakenly called her Wambui, Kibaki's alleged second wife.
For a president to have stopped all state functions for that, well, it must be love right? More so if you picture Kibaki carrying Lucy's handbag in one of those State functions.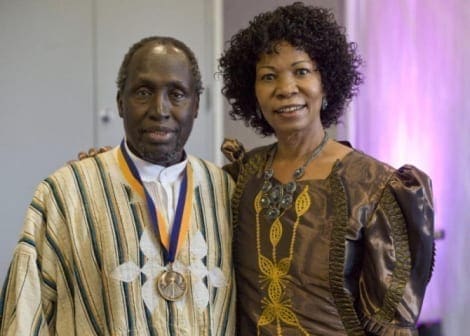 5. Prof Ngugi wa Thiong'o and Njeeri
When Njeeri Ngugi finally convinced her husband Prof Ngugi wa Thiong'o to come home in 2004 after 22 years in exile, the couple did not anticipate the harrowing ordeal they would go through.
Njeeri was raped in their apartment and later broke down at a press conference where she recalled the rapist subduing her even as she screamed in the dark for help and Ngugi fought other attackers in another room.
Realising what had happened, Prof Ngugi, who is currently in Kenya to mark half a century since the publication of his first novel, Weep Not, Child, stood at the door and asked the rapist to kill him.
Ngugi stood by Njeeri during the press conference and even clarified that it was not attempted rape but  rape. All this time, Ngugi put his arm over her shoulder, tenderly.
6. Collins and Chebet Injera
Besides rugby, Collins Injera is a family man. He got to grace the covers of Drum magazine together with his wife and kids where he passionately spoke about his wife Chebet Limo. Earlier in the year Collins missed the fifth round of the HSBC Rugby Sevens World Series. The speedy winger returned home to be by his wife's side as they were expecting their second child. Collins often flaunts the photos of his wife and two daughters on social media pages describing them as 'the people I work for.'
7. Catherine Ndereba and Anthony Maina
Catherine met hubby Anthony Maina at the training college for prison employees where Maina was part of the prisons athletics team.
Despite her successful career, Catherine has always respected her husband. Even when he was a corporal and she was a senior sergeant and could pull rank on him she chose to stay humble.
He worked in prison department headquarters while she was a telephone operator at the Nairobi West prison so he didn't have to salute her all the time.
When Ndereba entered the 1999 Boston Marathon, Ndereba fell apart after running for 18 miles, finishing five minutes behind in sixth place.
"I was ready to tell her to quit marathons because I don't like to see her running in pain," Maina said at the time.
Yes, Maina, now a helicopter pilot, cannot exercise with his wife like in the past but he does some light jogging with her when he's not braving the skies.
8. Isaac Mwaura and Nelius Rwamba
ODM nominated MP Isaac Mwaura attracted attention when he posted photos of him going down on bended  knee as his now fiancée, Nelius Rwamba looked overwhelmed by surprise.
He captioned the photos, "There cometh the man.." and did not disclose the name of his wife-to-be. In April this year, the MP made a follow up of similar photos when he posted photos of their traditional wedding. The MP has never shied from expressing his love for his longtime lover.
9. Michael Ranneberger and Ruth Konchellah
Former US ambassador to Kenya Michael Ranneberger married his long time Kenyan girlfriend Ruth Konchellah in a low key civil ceremony at the Attorney General's office Nairobi in 2013.
He had publicly admitted his love for Konchellah, a charity worker he met while an official duty in Trans Mara in the early days of his tenure. "While attending a women's rights event in a small village of Enoosen in Trans Mara, I was impressed by the way she talked on behalf of women.
I took notice. On a personal level, I have been fortunate to become a king to a certain lady, and she became a queen to me. That, to me, is a very fulfilling experience….," Ranneberger was quoted as saying.
Konchellah and Ranneberger have since been spotted in public places including lunching at an Italian restaurant in the CBD and gassing around in a silver  Subaru Imprezza. Konchellah confirmed in an interview earlier this year that she and Ranneberger were partners.
10. Phillip and Agnes Murgor
Justice Agnes Murgor, her husband Wildlife Direct chair and 'learned friend' Philip Murgor are what can be described as 'power law couple.'
When Justice Murgor was in the firm, which she founded and Phillip joined her later to form Murgor&Murgor, her hubby claims she handled entirely different roles so the question of crossing paths did not arise.
Since their professional paths hardly cross nowadays, the couple is occasionally spotted at high-end get-togethers posing for photos.
Kenya's top 10 most romantic public couples