ODM Trashes 2017 MOU with Kalonzo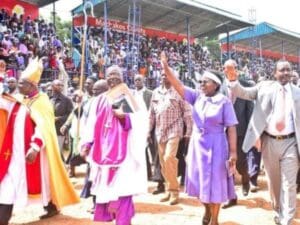 RAILA ODINGA'S ODM has trashed an alleged MoU that blocks him from flying the Cord Presidential flag in 2017, further widening cracks in the opposition coalition.
Even as the squabbles persist and divisions deepen, ODM yesterday disowned the existence of the pact, insisting that Raila is the de facto Cord flagbearer.
Kalonzo Musyoka's Wiper promptly condemned the denial of the MoU between the coalition partners, terming it "political conmanship at its best".
It is alleged that Raila in 2013 promised to be a one-term President, and then support Kalonzo in 2017 and Ford Kenya's Moses Wetang'ula to close the circle in 2022.
This is said to have been detailed in an addendum to the 2013 Cord Pact, which Kalonzo had refused to sign without the one-term clause.
But the MoU assumed that Raila would win. Wiper, ODM and Ford Kenya have now sharply differed on the deal that did not expressly provide for a scenario where Raila might lose his 2013 bid for the Presidency.
ODM Treasurer Timothy Bosire, a close ally of Raila's, yesterday admitted to the Star that there was an MoU quickly crafted to bring the three principals together as the 2013 election campaigns intensified.
"The MoU was there, and the operative words here were 'if Raila becomes President'. It was not of Raila's making not to become President in 2013," the Kitutu Masaba MP said.
He added, "While I have tremendous respect for Wetang'ula and Kalonzo, Raila is senior in the team and a doyen of the opposition with a huge presence countrywide."
Kitutu Chache South MP Richard Onyonka (ODM) acknowledged that Raila had agreed to handover to Kalonzo in 2017 only if he won the Presidency in 2013.
"The belief was Raila becomes a one-term President and now that he never won I can't see why we can talk of an MoU that was never fulfilled," Onyonka told the Star.
According to Onyonka, even pollsters have shown that Raila has the highest approval rating among Cord supporters, as opposed to his co-principals Kalonzo and Wetang'ula.
"With the way it is going, I do not see Cord going far. There is a lot of infighting and disagreements, the principals must sit down and agree on the best combination that resonates with Kenyans to beat Jubilee in 2017," Onyonka concluded.
As scant details on the MoU continue to emerge, tension has gripped the coalition, with Ford Kenya
calling for a renegotiation of the deal that placed Wetang'ula as a third beneficiary with his stab at the Presidency coming in 2022 at the earliest.
"I can confirm there was an MoU on the assumption that Tinga was to be President, but, unfortunately, he never made it. In view of that, we want a proper mechanism that will nominate a popular candidate through a free, fair and democratic process as a solution to this," said deputy Minority whip Chris Wamalwa.
The Kiminini lawmaker emphasised that ODM, Ford Kenya and Wiper are equal partners in the coalition and none should be viewed as inferior.
"There is no key, senior or superior partner. Even Wetang'ula has declared his Presidential ambition – if the MoU exists, then it locks him out, we cannot accept that," Wamalwa said.
Wiper secretary general and Mombasa Senator Hassan Omar on Saturday said the December 4, 2012, MoU was very clear on the 2017 presidential flagbearer.
He added that Wiper was already laying down the mechanisms for Kalonzo's campaigns for President in 2017.
Mbooni MP Kisoi Munyao, a close ally of Kalonzo's, said, "Raila must in no uncertain terms honor the MoU religiously".
"If Raila does not endorse Kalonzo, there will be no Cord. People are tired of political conmanship that is the greatest disaster in this country," Kisoi told the Star.
Kisoi maintained that the MoU bound Raila to vie for only one term and support Kalonzo in 2017, whether he became President or not.
"It is not about Kalonzo anymore, it is about our community and the party. We are not negotiating on this one," Kisoi declared.
Homa Bay Town MP Peter Kaluma, a member of ODM, also told the Star yesterday that Raila remains Jubilee's only potential challenger in the 2017 Presidential polls.
However, Kaluma doubted the existence of the MoU and called for its full disclosure by the proponents of the pact.
"Raila can lead as long as he is alive. When he is elected in 2017, he must serve until 2027 as long as he gives the people of Kenya what Jubilee has failed to," Kaluma said.
He insisted the narrative on the one-term Presidency was a fallacy.
ODM's secretary for Political Affairs Opiyo Wandayi attributed the debate on Cord's 2017 Presidential flagbearer and the alleged MoU to Jubilee's desperate and frantic efforts to divide the opposition.
"This is a creation of
some elements within Jubilee who have panicked and now want to divide us," the Ugunja MP said.
The opposition chiefs met last week in a three-hour encounter to quell fears of discord in Cord over the man the coalition will front to face off with President Uhuru Kenyatta in next year's general election, barely 16 months away.
Violence rocked Wetang'ula's launch of his Presidential bid in Kakamega early this month, when ODM and Ford Kenya supporters clashed, forcing Raila to skip the event.
Deputy President William Ruto has mocked the Raila-led team, saying they have no candidate formidable enough to wrest the Presidency from the Jubilee incumbent.
-the-star.co.ke