Kalonzo Musyoka Wiper Party stands by trashed MOU
Kalonzo Musyoka Wiper Party stands by trashed MOU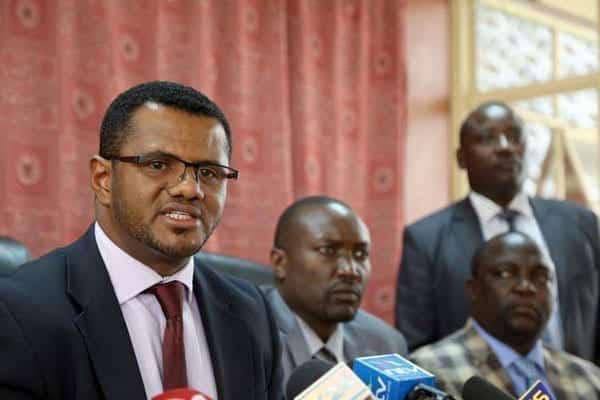 Former Vice-President Kalonzo Musyoka's party wants the agreement between it and its main opposition coalition partner ODM on presidential terms reviewed ahead of the elections next year, officials of his Wiper Democratic Movement party have said.
Wiper Secretary-General Omar Hassan on Wednesday paraded seven Members of Parliament who are part of Wiper's leadership at a press conference at Parliament Buildings to each drive home his assertion that he was stating the party's position.
The Mombasa Senator said the memorandum of understanding (MoU) disowned by ODM party leader Raila Odinga remains relevant as it will inform discussions on the Cord coalition's choice for the presidency next year.
"The MoU, for the Wiper Democratic Movement, is a part of the broader instruments that will be put on the table for negotiations, not only to interpret the letter of the MoU but also the spirit of the MoU that intended to let every principal have a go at the presidency for a one-term period," said Mr Hassan.
The party official said the negotiations "must be based on mutual respect" and divergence in opinions should not be seen as a threat to the coalition's unity.
He said that, unlike the Jubilee coalition, which wants President Uhuru Kenyatta and his deputy William Ruto to head the nation for the next 15 years, the Opposition is not fixed on having the three party leaders become President for 10 years each.
"We don't want to lock this house for 30 years," said Mr Hassan.
"That we know is not tenable in politics. Our political engineering cannot allow that."
The other partner in the tripartite coalition is Ford-Kenya, which is led by Bungoma Senator Moses Wetang'ula.
It is understood that part of Wiper's strategy is to get more concessions from ODM and to entrench its position in the coalition.
These would include more governor positions and more Cabinet Secretaries if it wins the election.
GOING NOWHERE
Accompanying Mr Hassan were Woman Representatives Dr Susan Musyoka (Machakos) and Rose Museo (Makueni) and other Ukambani MPs Marcus Muluvi (Kitui East), Robert Mbui (Kathiani), Patrick Makau (Mavoko), Makali Mulu (Kitui Central) and Peter Mathuki (East African Legislative Assembly).
Mr Hassan and company also disowned assertions made on Tuesday by three Wiper MPs that the party was ready to break away from Cord, which had Mr Odinga as its presidential candidate in 2013.
Kisoi Munyao (Mbooni), Joe Mutambu (Mwingi Central) and Richard Makenga (Kaiti) spoke when a 5,000-strong delegation from Ukambani was hosted at State House by the President and Deputy President last week.
"Wiper Democratic Movement is going nowhere," Mr Hassan proclaimed. "Wiper is in Cord to stay; Wiper is an integral part of the Cord coalition."
-nation.co.ke