VIDEO: Kenyans React After Raila Odinga is Tear-gassed
VIDEO: Kenyans React After Raila Odinga is Tear-gassed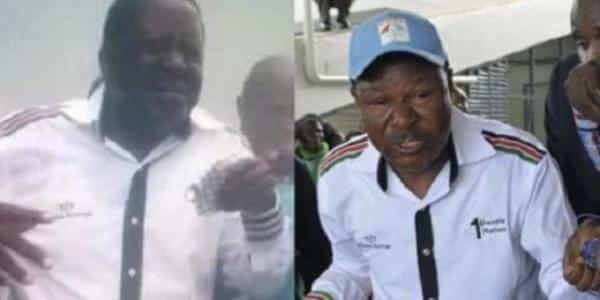 After CORD leader Raila Odinga and his supporters were heavily bombarded with teargas during the Monday protest against the Independent Electoral and Boundaries Commission (IEBC) commissioners, Kenyans took to social media to air their views regarding the chaotic scene.
Odinga was highly criticised by a section of Kenyans who indicated that his fight was persuaded by selfish gains and that Kenyans were not at the core of the demonstrations.
Some Kenyans also noted that the Opposition was taking Kenya back to the dark days and its actions would only stir ethnic violence in the country.
Odinga was further bashed for using 'rogue means' to remove IEBC commissioners from office, with a section of the public adding that the Coalition was just taking advantage of jobless youth.
At the same time, a section of the public strongly lauded the CORD principal for always fighting for Kenyans, highlighting that he was the best Opposition leader the country would ever have.
Narc-Kenya party leader Martha Karua joined in to condemn the action by police to launch teargas against the demonstrators stating: "Dispersing a peaceful gathering with tear gas is an unnecessary use of excessive force"!
CORD leaders were heavily tear-gassed when they tried to break into the IEBC offices located at the Anniversary Towers along University Way in Nairobi.
Under the leadership of Opposition Chief, Odinga, the members caused disruption in the Central Business District (CBD) forcing police to disperse them.
The scenes at the IEBC headquarters attracted attention from both local and international media
Here are the reactions:
#CORD You just Miss Advised yourselves.You are too old to be teargassed, Leave the riots to University Students,You are politically disabled
CORD leaders are creating panic in our town.They are a bunch of learnt lads who can pursue there justice in court but not 2 dirtify our CITY
am convinced that #CORD is the worst alternative to jubilee. If they cant follow the law as the opposition who cant trust them in govt?
If cord takes over the government I think they will be holding demos against themselves (Government vs Cord)~#DemolishIEBC
VIDEO: Kenyans React After Raila Odinga is Tear-gassed