VIDEO: Uhuru Kenyatta ends ICC ties,Never again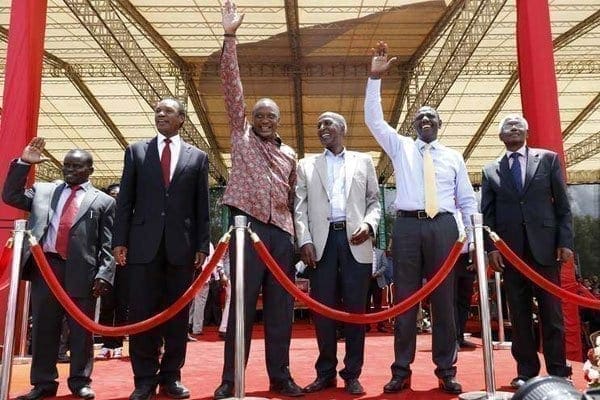 Themes of reconciliation and national unity dominated the major rally held by the Jubilee coalition in Nakuru where President Kenyatta seemed to slam the door shut on any further cooperation with the International Criminal Court.
The President said no other Kenyan would be tried in The Hague.
"It has been a painful journey for all of us. Many lost life and many properties were destroyed. As leaders, we have said that we will never go back to that route," said the President. "We would not wish any Kenyan to go through the experience we have had."
Speaking to thousands of supporters, President Kenyatta and Deputy President William Ruto struck notes of reconciliation, with the President saying he would "extend a hand" to work with the opposition to heal the nation.
But he followed that up with a threat to prosecute anyone inciting the masses. "Any leader who promotes hatred and violence should know that the full force of the law will be applied without regard to their position," said Mr Kenyatta.
Speaking in Kiswahili, he declared the five-year relationship with the ICC over.
"That chapter we have closed. We have our own courts, we will sort out our own issues. I don't want to see any Kenyan going out there again, we are not going back there…that chapter is closed…" said President Kenyatta.
The ICC prosecutor Chief Prosecutor Fatou Bensouda has issued warrants against three Kenyans, former journalist Walter Barasa, lawyer Paul Gicheru and Phillip Bett for alleged witness interference.
Kenya is legally bound to cooperate with the ICC as a signatory of the Rome Statute but MPs have been threatening to pull the country out from the ICC.
This would not affect the prosecutor's actions against the trio.
The choice of Nakuru for the rally was laced with symbolism, because it was in that town that the Jubilee coalition was launched in December 2012.
OCAMPO SIX
With the cases behind them, the Ocampo Six rode through the town and into the dusty compound across Afraha Stadium, dubbed Afraha Annex, because the stadium was deemed too small for the expected numbers during the thanksgiving prayers.
All the individuals who appeared at The Hague as suspects expressed their gratitude to the Kenyans who prayed for them.
They also thanked their lawyers, their families and the MPs and well-wishers who travelled to The Hague to support them.
President Kenyatta, Mr Ruto and the rest of the politicians vowed that never again would blood be shed and property destroyed because of political competition.
"Mr President. My friend. I have told you in private and I will tell you today in public, that you have an opportunity, and me as your deputy will support you, to make sure that Kenya becomes one. You have my unqualified support, all of us, you have our support Mr President."
He added: "Under your leadership it's my prayer that God shall give us the grace and the favour that never again shall the people of this country shed innocent blood or destroy property on account of political competition," said the Deputy President.
Mr Ruto, President Kenyatta and Interior Cabinet Secretary Mr Joseph Nkaissery also warned that the government would crack down on politicians who seek to stir up ethnic hatred through hate speech and propaganda.
Speaking in Kiswahili, President Kenyatta said: "If I Uhuru lose the election, I will just pack my bags and go rest at Ichaweri." (Ichaweri is his rural home in Gatundu, Kiambu County).
SOCIAL MEDIA USERS
Mr Nkaissery said the authorities would specifically target social media users.
"Those who spread rumours and incitement, we'll be with you on the spot. We have the capacity and we'll come for you," he said.
Nakuru's town centre was closed to motorists with hundreds of National Youth Service, prison warders and Kenya Forest Service personnel called in and regular police summoned from other parts of the country.
About 4,000 officers, some from neighbouring counties Baringo, Narok and Nyandarua, were on hand to guide the crowds and at the gate, to pat down everybody going in and verify their identities.
Afraha Stadium, across the road from Afraha Annex, was the first camp established when violence broke out after the 2007 presidential election.
Most of those who ended up there were perceived to be ODM supporters.
Five years later, the stadium was the preferred venue for the declaration by President Kenyatta and Mr Ruto that they would go to the 2013 election as the Jubilee Coalition, the exchange of red and yellow caps marking the symbolic joining of their parties.
Bishop Mark Kariuki who led the prayers, described the cosmopolitan town as Kenya's spiritual headquarters.
"Whatever decision is made here affects the entire nation. Even the decision you made here has affected the whole nation," he said, referring to that meeting in December 2012.
Representatives of the Internally Displaced Persons were also given a chance to state their views.
Paul Kariuki, who chaired the IDPs, said there are still 160 families at Muhu Farm in need of assistance, even as he praised efforts to resettle IDPs.
Ms Ann Bett, one of those evicted from Mau Forest, said there were others left out of the resettlement while Robert Opiyo and Simon Mutali also asked for the resettlement of everyone.
POLITICAL RHETORIC
There was little of the political rhetoric and the exchanges with opposition chief Raila Odinga that have dominated headlines in the past week and those who got the chance to address the thousands in attendance steered clear of coalition politics.
Mr Ruto however referred to the question of victims, whose plight has been highlighted by the Opposition and civil society groups in the wake of the dropping of the charges against him and the ICC.
"Victims of the post-election violence are our friends, we went to Sunday school with them, we attended the same schools, they are our neighbours. It is our responsibility. We will assume the responsibility and we'll take care of them," he added.
Deputy Senate Majority Leader Kipchumba Murkomen declared April the month of forgiveness and reconciliation. "As a country we want to commit that the nation will be reconciled with God going forward we will only preach peace," he said.
Deputy Majority Leader in the National Assembly Dr Naomi Shaban set the tone of the meeting soon after clergymen concluded the prayer session, urging leaders to keep Kenya together and forget the pains.
"Let (former Chief Prosecutor Luis-Moreno) Ocampo be forgiven freely and  the Lord himself will know how to deal with him," said Dr Shaban who was the first to be invited to speak by Energy Cabinet Secretary Mr Charles Keter, the moderator of the political session.
Mr Murkomen urged Kenyans to blacklist those who preach hatred and fan violence.
"It is you Kenyans who reward violent politicians. Ban them, we want you to deny us your votes, we want to ask the media to glorify those that preach peace and give a blackout to those speaking hatred," he said.
Mr Duale said no blood would be shed again on the basis of political competition and urged the president to embark on a journey of uniting Kenyans.
"This is what you will be remembered for and that road I know you are starting it now here at Afraha. We have no doubt you will write a history where you will leave a legacy of a united cohesive reconciled nation," he said.
Senate Majority Leader Prof Kindiki Kithure likened the Ocampo Six to the Kapenguria Six, who went through a sham trial in the emergency period before independence.
"We are here today to celebrate the return of the six Kenyans who were framed by enemies and taken to be charged in foreign countries," he said.
BLOCKED ROADS
"Never again shall we shed blood brother against brother, sister against sister, as we move into a country of peace, forgiveness and unity. We thank God, Kenya shall never be the same again," he said.
Nairobi Senator Gideon Mbuvi alias Mike Sonko said it was not a day for politics but one reserved to thank Kenyans.
"Some of us blocked roads at The Hague, but we knew it was all propaganda and nonsense," he said.
He them led Kenyans in choruses of "Si uchawi – ni maombi" (we didn't rely on witchcraft but prayers) and "hakuna Mungu kama wewe" (there is no God like you).
VIDEO: Uhuru Kenyatta ends ICC ties,Never again