Whistling during Uhuru national address sign of new dawn – Raila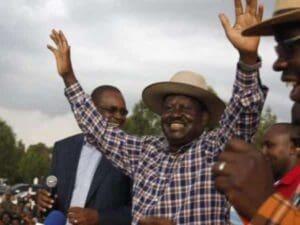 Cord leader Raila Odinga has likened Opposition MPs' whistling during the President's national address to a cockerel's crow at the start of a new morning.
Raila said the disruptions during the State of the Nation address in Parliament on Thursday resulted from Speaker Justin Muturi's conduct.
"The speaker is personally responsible for what happened. It was not right to treat MPs like criminals," he said, in response to a question on whether he approved of the incident.
"Hio firimbi ilikuwa na maana kwamba kumepambazuka (The whistling meant the sun has risen)."
Had the Speaker allowed debate after some MPs attempted to raise points of order, Raila said, the address would not have degenerated.
He noted in an address to professionals, politicians, business and clan leaders in Meru county on Friday that MPs are their constituents' representatives.
"Parliament has its own standing orders and procedures but I have never seen a Speaker rejecting a member on a point of order," he said.
Regarding the Jubilee scorecard , the Opposition chief said Uhuru's leadership had derailed and lost the dream of the forefathers, of creating a united and progressive nation".
"At independence, Kenya was a cohesive and united nation whose leaders only differed on ideologies, but later the elites hijacked it and started dividing the people and grouping them in."
He said the intention was to divide the people for an opportunity to grab and loot.
"Lately they have added hao watu wa kihii (those uncircumcised people)," Raila said, adding efforts to correct past injustices to set Kenya on a new path have been frustrated.
He cited a report by The Truth, Justice and Reconcilliation Commission and the promulgation of the new constitution.
"Kibaki did not want to implement the report and Uhuru does not want it either because he has inherited the same regime. So you cannot expect him to take care of, or guarantee your rights," he said.
The Cord leader termed Uhuru's declarations of progress an "act of chest-thumping and blowing one's own trumpet". The people would feel and speak about changes to their lives if they were existent, he noted.
Raila said the Standard Gauge Railway, one of Jubilee's flagship projects, was a product of the Grand Coalition Government, adding tenders were issued then to the contractor engaged by Jubilee.
"We left when everything had been done. We had awarded the tender at Sh207 billion, then Jubilee
Jubilee came and redid it, awarding it at Sh400 billion," he said.
Cord MPS had threatened to boycott the annual address which some told The Star by phone has been reduced to a ritual with no substance. Several of them were thrown out of Parliament for whistling and defying Muturi's orders.
Notable among them was Ugunja MP Opiyo Wandayi , who said time for conventional dialogue with the Jubilee administration has lapsed.
"We will employ every single tactic, including the funniest ones, to put the government in check," the defiant MP told The Star on phone on Friday.
The show of rebellion elicited mixed reactions among members of the public, some saying it was disrespectful and other terming it an expression of constitutional guarantees on the freedom to picket.
-the-star.co.ke