Bungoma's 'James bond Wanjala' to be given a free helicopter ride
Bungoma's 'James bond Wanjala' to be given a free helicopter ride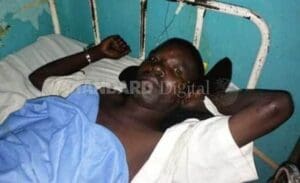 A Bungoma 'James Bond Wanjala' who hanged on the moving helicopter carrying the body of the slain city businessman Jacob Juma, will get a free ride once he is discharged from his hospital bed, a Sirisia politician has promised.
Moses Nandalwe says, Saleh Wanjala 41 who shocked the world for hanging on a moving helicopter for five kilometers will receive a free fully paid ride to any destination in the country.
"The man is our hero, he will attract tourists who want to see the 'Bungoma James Bond', let expose him now he did it to expose himself to the outside world, he can stir in international movies if exposed well," said Nandalwe.
Nandalwe said he is ready to help the man get his first ride on helicopter so that he fulfills his dream in life.
Wanjala hiked the helicopter lift from Posta ground and the pilot took him back to Bungoma airstrip where he jumped breaking his backbone and the right hand.
However, Nandalwe has called on Bungoma county commissioner Mohamed Maalim to consider dropping all the charges preferred against Wanjala so that he doesn't feel like an outcast.
Wanjala is currently receiving treatment at Bungoma County Referral Hospital, handcuffed and under tight police watch.
"It's against the fundamental rights of an individual to handcuff any citizen while on a sick bed. Moreover, Saleh has expressed himself and said that his state of mind was not sober leave alone being under the influence of busaa," said Nandalwe.
He accused the county commissioner and the Police for laxity considering that the function was attended by high profile politicians including CORD leader Raila Odinga among other leaders.
"The Commissioner should have secured the place as well as protecting the helicopter; he should also be grilled on how the incident happened and why the police were not deployed to ensure safety of Kenyans."
Maalim has assured Kenyans that the pilot will also be prosecuted for landing on undesignated area and endangering the life of Wanjala.
"Why plan to prosecute the pilot when his work was to fly the body of Jacob Juma to Kanduyi? He is a trained pilot, I condemn in the strongest terms possible the statement by Maalim to intimidate pilots," he said.