Why Pilot Who Ferried Jacob Juma's Body Could be Charged
Why Pilot Who Ferried Jacob Juma's Body Could be Charged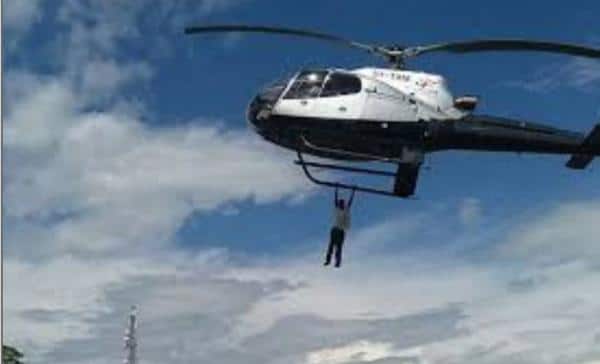 The pilot who was flying the helicopter which a Bungoma man clung on could be charged over the incident that happened during transportation of slain businessman Jacob Juma's body.
Bungoma County Commissioner  Maalim Mohammed has pointed an accusing finger at the pilot for supposedly landing the helicopter in an undesignated area.
"We want to advise pilots to land helicopters in designated areas where officers are deployed to guard the chopper," Mohammed was quoted by KTN News.
The Commissioner added that at designated areas, officers guarding helicopters could be held accountable if anything was to happen.
According to Mohammed, the said pilot failed to land the chopper at an appropriate place that could have had guards, hence exposed residents to risk.
After falling from the helicopter, Saleh Wanjala sustained injuries on his hip joint, elbow and a cut on the eyebrow and was taken to Bungoma Referral Hospital.
Wanjala is also set to face charges of attempted suicide and endangering the lives of the chopper's crew.
However, locals have pleaded with the government not to charge Wanjala as he was 'a hero and had made history'.
However, another section of the public condemned him for the 'foolish' act saying he had watched too many movies by James Bond and Spiderman.