Kalonzo Musyoka warns of 'political dry spell' for Kambas if they miss presidency in 2017
Kalonzo Musyoka warns of 'political dry spell' for Kambas if they miss presidency in 2017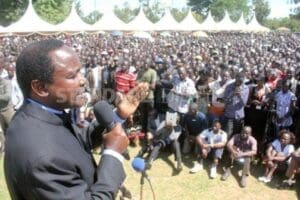 KITUI: Wiper party leader Kalonzo Musyoka has warned of a 'political dry spell' in Ukambani should he fail to clinch the presidency in the next year's general elections.
The Coalition for Reforms and Democracy's co-principal said it is now or never for a son of the community to ascend to the presidency in 2017 polls.
Kalonzo said the community had waited for long for their stamp at the top seat, vowing that he was ready and prepared to take the leadership mantle.
"It will take the Kamba community some 50 years or more for one of their own to ascend to presidency if we miss the opportunity this time round," he said.
However, the former Vice President sought to explain that he and other CORD's leaders, Raila Odinga and Moses Wetang'ula will remain solidly together until they reached at the ultimate goal.
Speaking at Mathuki market, Mwingi Central constituency in his Kitui County home turf, Kalonzo pleaded with Mr Odinga and Mr Wetangula to give him the golden chance to fly the coalition's flag in the elections.
"I have all it takes to grab the presidency. I have no doubt in my mind about my ability to move this county to the next level. I urge Kenyans to give me this opportune chance," Kalonzo said.
Kitui Governor Julius Malombe and Senator David Musila led Mwingi Central parliamentary aspirants, former Law Society of Kenya chairman Eric Mutua and Wiper acting Executive Director Gedion Mulyungi in vowing to rally the community behind the former VP to be CORD's presidential flag bearer in next year's General Election.
Mr Musila, who is the Wiper chairman, waved to the crowd as a sign of endorsing Kalonzo's bid, saying he had a cold which made him loose his voice.
Dr Malombe, Mr Mutua and Mr Mulyungi said they will support Kalonzo's bid to be the next president. They said Kalonzo stood a better chance than any other coalition's leader to dislodge Jubilee administration from power.
Kalonzo warned local MP Joe Mutambu and other party members perceived rebels to either mend their ways or await humiliation during the party's nominations.
He said it was unacceptable for Mutambu's likes to use his name during the last elections to get elected and thereafter turn to be traitors.
"Mutambu and his group must understand they have not only betrayed me but also the entire community. Woe to them because curse will befall them and their unborn generation if they don't repent and turn round," Kalonzo said.
The Wiper leader stepped in to reconcile Malombe and Musila ahead of the 2017 elections telling them to stop their political feuds.
He said he was optimistic the two will be inspired by the Holy Spirit to stop their political wars and focus on social, economic and political stability of the county.
"I urge these leaders who are our political pillars to be like-minded and end hostilities for the prosperity of the region," said Kalonzo, adding that the row between the two