Man thought dead after brutal police thrashing is alive

Man thought dead after brutal police thrashing is alive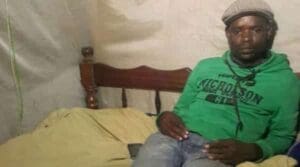 NAIROBI, Kenya, May 17 – A man earlier thought to have died following police brutality at Monday's CORD protests has been traced to Kibera.
Capital FM News spoke to 36 year-old Boniface Manono, who narrated his experience in the hands of anti-riot police officers who were filmed beating him mercilessly.
Manono told this reporter that he was coming from Westlands and alighted from a matatu due to heavy traffic only to run into trouble with the police who were dispersing CORD protesters.
Social media was awash with news of the man's death since Tuesday morning, while sharing the video in which he was seen being brutalised.
He was still wearing his green hoodie and a kangol when our crew traced him to Ayany estate where he was nursing his injuries in bed.
He was unable to explain what appeared to be a stone in his back pocket.
By JUDIE KABERIA,
Man thought dead after brutal police thrashing is alive