VIDEO: Raila car windscreen hit by bullet during Cord demos
VIDEO: Raila car windscreen hit by bullet during Cord demos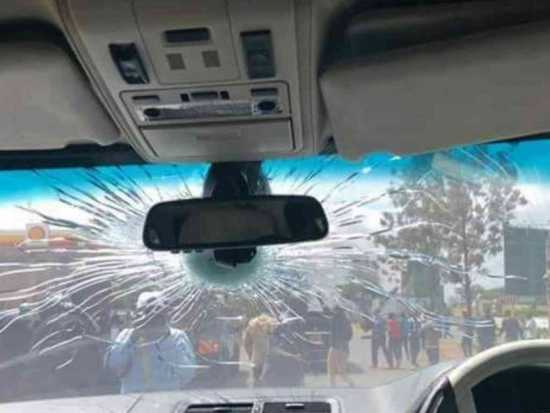 The windscreen of Raila Odinga's official armoured car was cracked by a gunshot while police dispersed anti-IEBC demonstrators on Monday.
Raila's spokesman Dennis Onyango said the Opposition leader was in the car when the shot was fired.
There were also claims that a stone was thrown at the car whose photos were circulated on social media.
The vehicle is parked at Capitol Hill, where Raila's office is located.
Nairobi police commander Japheth Koome said police had not received reports of a shooting.
"We have not received any alert or statement," he said, but added: "We are not taking this matter lightly."
Cord leaders led hundreds of protesters in a third round of demonstrations for IEBC commissioners to be removed.
Several people were injured and beaten by police, motorists harassed and pedestrians robbed during the protests.
Raila, Moses Wetang'ula and Kalonzo Musyoa have said they will only end the demonstrations if the electoral body is disbanded ahead of the August 2017 general election.
Raila said via Twitter that the protests took place in parts of the country including Nairobi, Kisumu, Kwale, Siaya and Kisii.
Kenyans are tired of the incompetence and corruption exhibited by the electoral body as presently constituted," he wrote.
"Despite the use of undue force by police, our peaceful pickets shall continue every week until the IEBC is reformed.|
VIDEO: Raila car windscreen hit by bullet during Cord demos