Raila storms off Mumias rally after youths break windscreen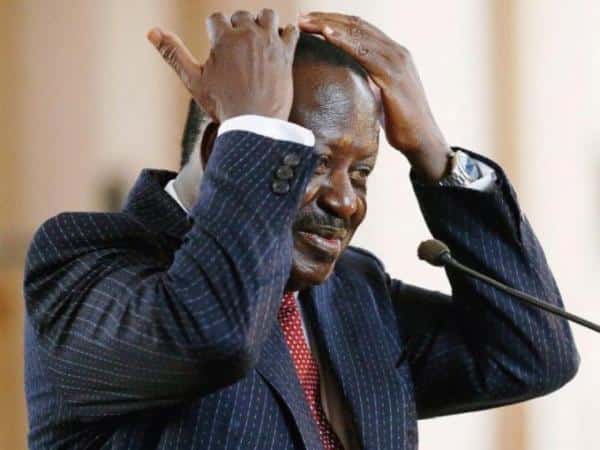 Cord leader Raila Odinga unceremoniously left Shibale shopping centre, Mumias, on Friday after chaos erupted over who could address the people.
Raila had gone to console people allegedly harassed by GSU officers, accompanied by Kakamega Governor Wycliffe Oparanya and MCAs Rocky Omwendo (Mumias North) and Libinus Oduor (Mayoni).
He was forced to take off after the crowd turned violent accusing them of neglecting the victims.
A witness said the incident, that left the window of Raila's vehicle shattered, began when he sent the two ward representatives to check if they could address residents.
"The MCAs (after being given the go-ahead) went and called Raila and Oparanya. They came and stood where Mumias East MP Benjamin Washiali was standing in readiness to give speeches," said the resident.
But Washiali refused to give Oparanya the microphone.
Mumias North MCA Rocky Omwendo is attacked by Mumias East MP Benjamin Washiali's supporters during a chaotic rally at Shibale Shopping Centre, November 25, 2016. /SHABAN MAKOKHA
The witness said the MCAs stayed put and demanded the microphone insisting that they wanted to welcome Oparanya.
"Washiali became hesitant. Then Omwendo started pushing him to grab the microphone. The two MCAs were beaten by Washiali's supporters," he said.
"It forced them to flee to their vehicles and leave. Raila and Oparanya stood watching as the events unfolded.
The witness Raila and Oparanya remained at the podium and that the crowd later returned for their addresses.
But former ODM national youth leader Rashid Mohammed asked the Governor why he had neglected the people despite their many votes he got from the Wanga community.
"Why should it take you two days to move from Kakamega to Mumias, a distance of less than 30km, yet your people were oppressed by security agents?" he asked.
Washiali and Oparanya reportedly started pushing each other before the latter took the microphone and tried addressing the people. But he was booed and accused of not having the people's interests at heart.
Mayoni MCA Libinus Oduor is attacked by Mumias East MP Benjamin Washiali's supporters during a chaotic rally at Shibale Shopping Centre, November 25, 2016. /SHABAN MAKOKHA
Washiali asked why ODM leaders were fighting over the fall of Mumias Sugar Company, and seemingly pushing for Mumias residents to continue wallowing in poverty.
"Why hasn't Raila come here with (Nairobi Governor Evans) Kidero to say 'sorry' to the people of Mumias? Why did Oparanya give Sh200 million to a businessman in the name of a grant for Mumias Sugar Company?" he also asked.
"But 2017 is not far. We shall tell these people what your intentions are for them."
The MP further accused Oparanya of double-speak and taking the people for granted.
It was at this point that Raila marched to his damaged vehicle and left without addressing the people. They were headed to Kakamega for an ODM function.
Cord leader Raila Odinga with former ODM national youth leader Rashid Mohammed during a chaotic rally at Shibale Shopping Centre, November 25, 2016. /SHABAN MAKOKHA
Mumias residents complained on Thursday that security officers were torturing them and using excessive force in operations to recover stolen firearms.
Seven G3 rifles were stolen when thugs who raided Booker police post, near the entrance to Mumias Sugar Company, on Wednesday morning.
A contingent of GSU, regular and Administration Police officers from across the region were deployed to various villages in Mumias, with instructions to recover the guns.
They spent the better part of the day and night combing through Shitukhumi, Shibale and Mayoni estates, forcing traders to flee.
On July 22, police fired teargas to disperse a riotous mob that had barricaded a road Raila was to use on his way to Shibale, Mumias
This was after a confrontation ensued between the more than 20 youths and ODM supporters in the area. The protesting youths carried placards demanding Raila pays Mumias Sugar Company's debt.
Raila storms off Mumias rally after youths break windscreen