Boxing Queen Conjestina Achieng attacks and injures brother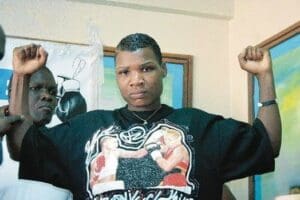 Ailing Kenyan boxer, Conjestina Achieng', is on the spot for recently causing grievous bodily harm to one of her siblings.
The veteran boxer, who earned fame for her exceptional boxing skills during her heyday, is reported to have attacked her younger brother, Vincent Owino, with a sharp object during a scuffle, leaving him seriously injured.
Owino was later admitted at Yala Hospital, where he was treated and discharged after two days.
"It was a serious incident and the family now is worried because Conjestina is getting out of hand. Much as we thank the general public for supporting us all through, I am afraid things are getting out of hand and we don't have the resources to manage her anymore," a close relative of Conjestina told Nairobi News.
MENTALLY UNSTABLE
Pictures exclusively obtained by Nairobi News show the boxer's said sibling with deep cuts he suffered during the ordeal.
Close relatives who spoke to Nairobi News said that Conjestina who has been mentally unstable for the past few years, attacked her sibling after escaping from the Foundation of Hope Rehabilitation Centre in Kisumu, from where she was undergoing.
Family sources have also revealed that Conjestina, who used to earn six figure amounts as appearance fees for featuring in a single bout, has been abusing hard drugs and alcohol.
This incident brings to a new low the boxer's ever deteriorating condition.
-nairobinews.nation.co.ke