Kenyan Diaspora appointed interim Eudora city manager in Kansas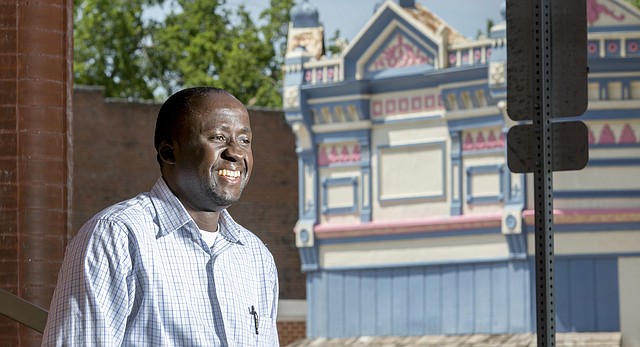 Barack Matite has an enviable record with the city of Eudora.
"I've been here four years and have been promoted every year," he said.
Anyone thinking Matite is bragging with that recitation of fact hasn't met him. The brief resume summary was delivered with one of his frequent quiet laughs and with a hint of amazement at his rapid rise from unpaid intern, to assistant to the city manager, to assistant city manager to interim city manager. That last promotion came after former city manager Gary Ortiz left City Hall when he was unable to fulfill the city's residency requirement.
Those promotions are well deserved, said Mike Press, who three years ago hired the intern to his first paid position. Press, a consultant who was formerly county manager of Johnson County, made that hire shortly after starting a stint as interim city manager as the Eudora City Commission looked to fill the city's top job.
"I believe he has all the attributes to be a rising star in the profession," Press said. "He has vision, he's pragmatic and a tireless worker. He never complains about any assignment. He's turned into a professional at a very young age."
Matite first walked into Eudora City Hall as an intern through the Kansas University master's program in public administration with a clock ticking in his head.
"When I first came here, my thought was I would do my 500 hours and then go to law school in (Washington) D.C.," he said.
At that time, there were few ties to keep in Eudora the single, Kenyan-born Matite, who came to Kansas 10 years ago to attend Kansas City, Kan., Community College because his brother lived nearby. That would change.
"I'm still here because people are so kind and welcoming," he said. "It sounds cliche, but working with the (Economic Development Corporation of Lawrence & Douglas County), the chamber and the Lions Club, I've found people are so passionate about making Eudora a better place to live."
Another factor is job satisfaction.
"When I see people pushing baby buggies on the south high school trail, I get goosebumps because I know I made a difference by being involved in that project," Matite said.
One of his first tasks as an intern under then City Manager John Harrenstein was to develop a data collection system of the activities of all city departments.
"That was very helpful to me because I had little understanding of how cities operate." Matite said. "That was a good introduction to the scope of city activities, and I also got to meet all the city department heads."
Another early assignment was to create a newsletter for the community, which does not have a newspaper. Matite said that and his efforts to give the city a social mediapresence have proven very useful in keeping Eudora residents informed of city government activities.
Matite took over the reins of Eudora city government at a busy time. On the table before him Wednesday were binders on the 2017 budget, which he will present to the City Commission next month. Leaning against a wall were CDC Real Estate Group's conceptual plans for the redevelopment of the 15-acre Nottingham property on the city's Church Street gateway.
The City Commission has made known its priorities for the budget, Matite said. The challenges before him of balancing the demand for services with the need to keep Eudora's property taxes affordable are not new, he said.
The CDC conceptual plan with its 90,000-square-feet of retail space offers the promise of growing and diversifying the city's tax base by retaining sales taxes lost to Lawrence and Johnson County. Matite said the city and its professional consultants are now working on several fronts to complete a redevelopment agreement with CDC, including the creation of a tax increment financing district.
Matite is taking on those tasks knowing the Eudora City Commission is strongly considering giving him a fifth promotion by making his interim position permanent. He doesn't feel any added pressure, but also finds security in a strong network of support.
"If you are a KU graduate, you are never in this profession alone," he said. "There are always people you can pick up the phone and call."
Matite's old boss Press is a part of that network.
"I have told him if he ever needs advice, I was available," Press said. "When he calls, he usually knows the answer. He just wants to make sure he's on the right track."