Kenyan Student Graduates from SCC; Plans to Return home to Assist with Medical Shortage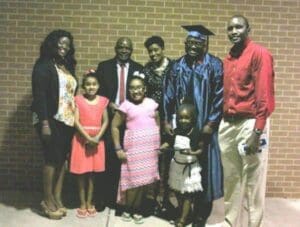 It was always a dream of Carlisto Oyugi's to study medicine in the United States and earlier this year, that dream became a reality as he successfully completed his degree at Somerset Community College. Oyugi is now a Licensed Practical Nurse.
Oyugi, originally from Kenya, attended college in his home country, but knew that learning more in the US would help him as he worked toward his goal of returning to Kenya to provide medical care.
"I wanted to acquire more knowledge," Oyugi said. "I want to go home eventually to translate what I've learned and share it with Africans."
Oyugi found his home in Columbia, Kentucky after his dad, John Bob Oyugi, a community development officer and coaching instructor who works with youth development programs, worked with individuals from Lindsey Wilson College. John Bob Oyugi's daughters Cheryl and Valerie also lived in Kentucky at one time, although both now reside in St. Louis, Missouri. John Bob Oyugi traveled from Kenya for his son's graduation.
Carlisto Oyugi said there is a shortage of nurses in Kenya and his degree will enable him to treat many sick and hurting people. He plans to continue his education in the US first, although his plans aren't definite, he said.
Oyugi, age 33, said the instructors at SCC made a difference in his education by providing one-on-one attention.
Oyugi has two daughters, Shayla, age 10 and Kyra, age 8.