Ex-clerk at Orengo's law firm sues for non-payment of Sh950,000 salary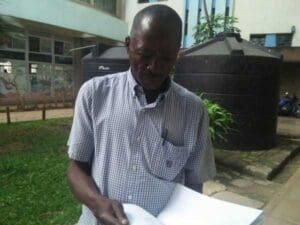 A former clerk at James Orengo's law firm has taken the senior counsel to court over non-payment of wages amounting to Sh950,000.
Gilbert Jedida Ogango is accusing the Siaya Senator of frustrating him and blatantly refusing to pay him for the 17 months that he worked at his law firm.
In an urgent case filed before the Employment and Labour Relation Court on Thursday, Ogango said he had to persevere at the J.A.B Orengo Advocates as the senior lawyer kept promising him that he will be paid once the harsh economic times are over.
"But by looking at the change in the law firm, the harsh economic times has since passed on and changed for the better but he still refuses to pay me," he says in an affidavit.
"I am now led to believe that they had been misleading me and as such my hopes and patience have been dashed and some to naught," he says.
According to his suit papers, Ogango was employed as a clerk at the law firm through an oral contract in 2008. They agreed that he will earn a salary of Sh20,000.
He says trouble began in September 2014 when the law firm failed to pay him but did not read anything strange as his salary would sometimes delay for various reasons.
"It was later that I got worried as the payment took a while despite my dedicated service," the clerk said.
Despite the delays, Ogango says he proceeded to work for 17 months without pay in the belief that the fortunes would turn and payments would resume.
But when things did not change in February 2016, he opted to end his contract and sought for his terminal dues, but which did not come.
The clerk says he formally wrote a demand letter through the law firm of Okoth Okwemba S.M & Associate and was told that his salary was withheld not for lack of money but because he abandoned work without decency.
Before the Employment court, he wants the judge to compel Orengo to pay him Sh340,000 as salary arrears for the period that he worked without pay.
He also wants one month's salary in lieu of notice, house allowance being 15 per cent of basic pay amounting to Sh267,000.
The clerk also want to be compensated for the unfair loss of employment at Sh240,000, severance pay of 15 days each year completed for seven years he worked. This is coming to Sh80,500.
He argues that the failure to pay him his dues is a crime under the Employment Act.
Ogango says the law firm flouted procedures by failing to keep proper his employment records.
The man says he shall continue to suffer irreparable loss and damage unless the court intervenes and compels the senator to pay him his salary arrears.