Matatu owners to dump shells of vehicles burnt in demos at Cord's doorstep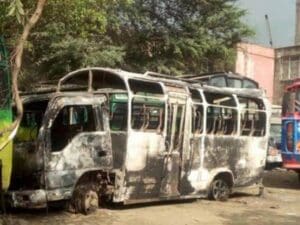 Matatu owners association have warned that they will use violence against Cord supporters who attempt to destroy their vehicles during the weekly IEBC protests.
On Tuesday, MOA chairman Simon Kimutai said those who perpetrate violence against them will meet an equal force.
"We are saddened by the turn of events where we are losing our properties. We have not interfered with anyone. We are not violent. But we will protect our business. We are ready to face anyone who will get aggressive and attempt to destroy our business," Kimutai said.
Kimutai said the public service vehicles operators will not allow the opposition supporters destroy their investments.
Cord has staged countrywide demonstrations in push for an overhaul of Independent Electoral and Boundaries Commission.
Two matatus were burned during the Monday protests in Nairobi and Kisumu.
Kimutai said the PSV owners will counter violence against them.
"We are not going to sit back and watch you destroy our livelihoods because you are demonstrating against an institution. We will position ourselves to defend our business and even our people," Kimutai said.
Kimutai said the matatu operators have been incurring losses from lack of business when Nairobi residents choose to stay at home following the demos.
He warned oppositions chiefs against organising chaotic demonstrations.
"But when you take it further to destroy our investments, we would rather not let one die because of being poor but die while protect what belongs to them," he said.
"We want to tell Kenyans that it sends are very strong and bad signal to target the business community especially the private transport because of angers that you have held within yourself against the IEBC. We have nothing to do with IEBC we have nothing to do with politics," Kimutai said.
He said burning of the vehicles is destroying many livelihoods that depend on the sector.
Kimutai said they will take the shells of the burned vehicles to the oganisers of the protests to demand compensation for the loses.