Nairobi Man Hides Ruto's Wad Of Cash To Wait For Upcountry Wife
Nairobi Man Hides Ruto's Wad Of Cash To Wait For Upcountry Wife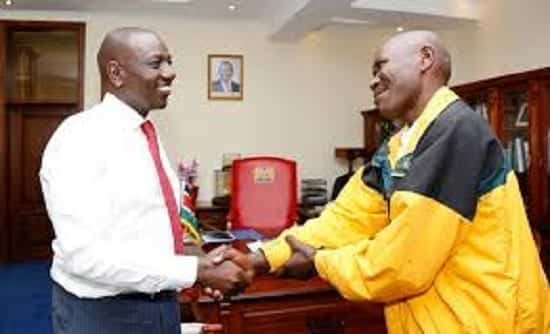 A man who was given an envelope containing a wad of cash by deputy President William Ruto has opted to wait for his wife to come from upcountry so they can open the envelope together.
Patrick Odanga, a construction worker, was a happy man after being invited to Mr Ruto's office on Tuesday morning for a chat and was later sent off with a heavy brown envelope – a token from the deputy President to his family.
Mr Ruto first met Mr Odanga last Friday during his working visit in Embakasi West constituency. Mr Odanga was part of the crowd that had gathered at the Outer Ring Road – Kangundo Road junction in Umoja to greet him.
Mr Ruto's spokesperson Emmanuel Tallam told Nairobi News that it was Mr Odanga's persistence to get near the deputy President that finally caught Ruto's eye who then asked his security detail to allow him access to where he was.
"When the deputy President saw that Odanga was struggling to get closer to him, that is when he instructed me in Swahili saying acha huyo hustler mwenzangu apite, and that is how he (Odanga) ended up having a meal with the DP," said Emmanuel Tallam.
Mr Odanga recalled how the deputy President offered to buy them lunch in the nearby roadside hotels in Umoja 1.
"I have never been near an important person before. I thought it was may be a dream for the deputy President to lower himself and sit down on the same table and share lunch with us," the father of three who lives in Mukuru Kwa Reuben slums told Nairobi News on Wednesday.
Mr Odanga's persistence did not stop there. During the meal of mbuzichoma, ugali andkachumbari, he asked the deputy President if he could invite him to his office in Karen.
Mr Ruto accepted the request and asked him to leave behind his mobile number to his aides.
On Tuesday morning, Mr Odanga received a phone call inviting him to Mr Ruto's office for an 11am meeting. He arrived promptly for the appointment, albeit with muddy shoes.
"When he arrived pictures of him and the deputy President were taken and the two then had a private meeting in his office. I am not privy to what they discussed, but after they concluded their visit Odanga assured me that he was given 'transport' by the deputy President to go see his wife in Turbo," Mr Tallam told Nairobi news.
Mr Odanga narrated to us how the meeting went.
"He told me that he just wanted to verify that it was me he shared a meal with. My legs were shaking, just being in his presence was an incredible feeling. These are the people I only see on TV and I never thought that one day I would have the pleasure of being face to face with him," Mr Odanga told Nairobi News.
They talked about Mr Odanga's family and the deputy President offered to assist him pay school fees for his elder child – who is in Form One – through his secondary education.
He said Mr Ruto gave him a heavy, brown envelope which he later hid and has yet to open it since he is waiting for his wife to arrive from Turbo.
-nairobinews.nation.co.ke
Nairobi Man Hides Ruto's Wad Of Cash To Wait For Upcountry Wife