VIDEO: The XYZ Show-A SHOT AT NUSU MKATE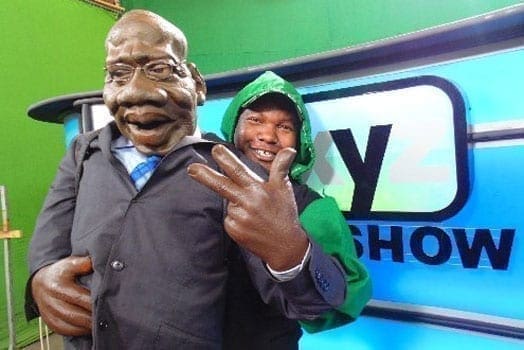 Everything started in 2003. On a trip to Paris, for an exhibition Gado took time to visit the set of "Les Guignols de l'Info", or the "News Puppets". Les Guignols, just like XYZ, is a spoof newscast featuring latex puppets. It has been on the air for more than 20 years and is one of France's most popular shows ever.
To Gado it was immediately obvious that the same concept would not only be a huge success in Kenya, but could also have an important social impact by exposing, with humor, the rampant corruption and mismanagement of the country.
Back in Kenya, Gado shopped the idea around to the TV stations, but many had trouble understanding the concept. Still, Gado pressed ahead, and in 2004 he managed to convince the French Embassy in Nairobi to send sculptor Gerald Olewe to France for a month. There Olewe was trained by the team of experts who create the French puppets, and he learned how to work with sophisticated materials such as foaming latex. He came back with a fully finished puppet of Kibaki in his luggage. Olewe held his breath as he innocently walked through the JKIA customs. Luckily, he was not stopped.
Two more struggling years went by until in July 2007, Gado scrapped together a few shillings, got a little bit of money from the French embassy and produced a pilot for the show.
Producing the pilot was a challenge, but it brought together some key team members who would stick around for ever after that: director James Kanja, visual effects guru Pete Mute alias Majiqmud, and the talented group of puppeteers led by Jack Kibedi.
With the pilot in hand, Gado embarked on a new round of visits to the TV stations. He hit a new wall, or rather two. One, the show was political and controversial. That made a lot of TV executives uncomfortable. Two, it was expensive. There were puppets to make and screenwriters, voice artists, puppeteers, cameramen and more to hire. No one wanted to pay for it.
Gado went back to the drawing board, plotting his next move. Then in November 2007, a TV journalist, Marie Lora, came to interview him for a story about how editorial cartoonists viewed the upcoming presidential elections in Kenya.
After the interview, Gado showed her the XYZ pilot. Straight away, Marie thought that this show absolutely needed to be on the air – and she knew she could help. But the next month, all hell broke loose in Kenya. We now call this period "the post-election violence", but the term doesn't give justice to the madness of these terrible months. At that time, it became even more obvious that Kenya needed a show such as XYZ. Humor appeared like the only possible way to dig ourselves out of the dark hole we had fallen into.-Wikipedia
VIDEO: The XYZ Show-A SHOT AT NUSU MKATE