Bungoma man who hung on chopper to be flown to Nairobi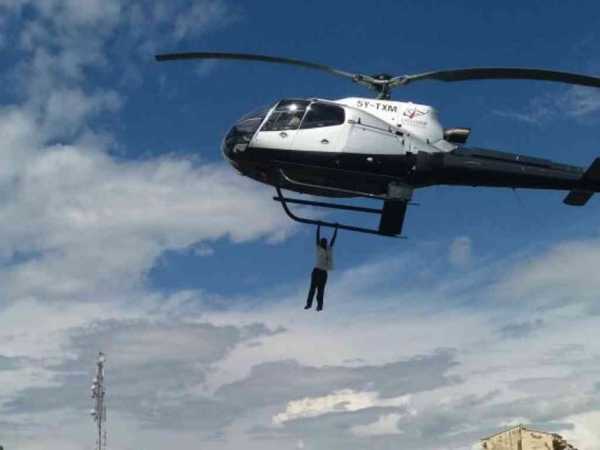 The man who hit headlines after hanging on airborne chopper in Bungoma during the body viewing of the slain businessman Jacob Juma in May will be flown in Nairobi with a return ticket.
Bungoma's 'James Bond' as commonly referred to, has been offered a sponsored ticket alongside his family members.
His mother and wife are among the members booked in the flight itinerary on Kenya Airways.
Nairobi-based businessman Lendrix Wasawa has said preparations to receive Saleh Wanjala are in top gear.
"I am ready to receive the entourage and host them for a luncheon in my home in Lavington", Wasawa who hails from Bungoma said.
Waswa said that Wanjala had done what many people cannot do adding "can only be seen on movies".
The Bungoma man will be picked at JKIA in a posh and classy S- class Mercedez Benz before and after the morning flight on Monday.
The flamboyant businessman bailed out Wanjala after he was arraigned in Bungoma Court where he had been accused of endangering his life, that of the pilot and the occupants inside the plane. He paid Sh30,000.
Waswa said he will then see him off on Monday.
"I am doing it to award his rare bravery act that is a seldom accomplishment on earth apart from the Hollywood fiction movies", he added.
James Bond attracted media attention nationally and worldwide prompting university students to develop game app named after him.