Raila support falls in Western region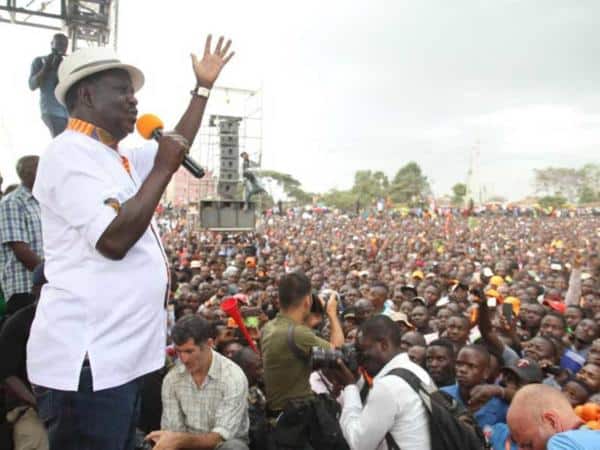 Cord leader Raila Odinga's popularity in Western has been declining for a year, opinion polls since April 2015 show, as the Cord leader yesterday began touring his restive stronghold.
Raila faces growing rebellion in Western Kenya, traditionally bedrock political support — threatening his chances in 2017.
He is touring the region for five days to stem mutiny by some ODM leaders.
In contrast, the Ipsos polling trend shows President Uhuru Kenyatta's popularity in Western has been increasing over the same period and he is more popular than the ODM chief.
In fact, Uhuru appears to be more popular now than all three Cord co-principals combined.
The polling trend shows Raila's ratings in Western shot up from 24 per cent in April 2015 to 27 per cent in August that year.
He plateaued at 27 per cent, as indicated by the November 2015 poll.
His popularity dipped to 23 per cent in the latest survey released last month.
Uhuru now commands a 36 per cent positive rating from respondents in Western Kenya.
This 36 per cent in the latest June poll is an increase from 21 per cent in November 2015, when Raila scored 27 per cent.
Uhuru was at 24 per cent in Western in the August 2015 poll, a decline from 37 per cent in the April 2015 survey.
In the ODM revolt in WesternKenya, key allies have resigned their ODM posts.
They include Budalang'i MP Ababu Namwamba, Funyula MP Paul Otuoma and Sirisia MP John Walukhe.
Uhuru did not rely on Western in the last election but he has been on a charm offensive since coming into office.
He has toured the region several times to launch projects, including bailing out farmers hurt by the collapse of Mumias Sugar and Pan Paper Mills.
Uhuru appointed Eugene Wamalwa to the Cabinet last year, followed by other appointments of Western politicians.
Former Bumula MP and Lands assistant minister Bifwoli Wakoli was appointed chairman of the Agricultural Development Corporation.
Former Webuye MP Musikari Kombo was named head of the Water Services Trust Fund.
Just last Wednesday, New Ford Kenya bosses led by Bungoma Governor Ken Lusaka visited Uhuru at State House Nairobi.
That was two days after they agreed to disband the party and merge with Jubilee. The four polls shows Uhuru currently is more popular in Western than the three Cord co-principals combined.
They are Wiper's Kalonzo Musyoka and Ford Kenya's Moses Wetang'ula, who hails from Western.
The June 2016 poll shows 33 per cent of Western support the co-principles combined, compared with 36 per cent supporting Uhuru.
In this survey, Raila polled 23 per cent, Wetang'ula 10 per cent and Kalonzo zero per cent support.
In November 2015, almost
half (49 per cent) of Western respondents said they support the three Cord co-principals, combined.
This support stood at 33 per cent in April 2015 but dropped to 32 per cent in August 2015.
However, whereas the margin of error for the national figure is about +/-2.2 per cent, for Western (with just over 200 interviews) it goes up to +/-6.8 per cent.
Sample sizes for Western Kenya have ranged from about 200 to 210, hence, the larger error-margins.
"While this reduces reliability of the percentages, I think the general trend-comparisons are indicative, nevertheless.
Though obviously, anyone seriously interested in this or any other single region would have to invest more to get bigger samples," Ipsos research analyst
Tom Wolf said.
He added ,"Also, we have to remember that according to our (and others') census data, the Western population is only about 70 per cent Luhya, so the region should be taken as a complete proxy for that ethnic group, as well as the fact that many Luhya are labor migrants and work all over the country."
The sample size in April 2015 nationally was 1,964, August 2015 (2,002), November 2015 (2,058) and June 2016 (2,067).
The trend in Western appears to be replicated in nationwide polls showing Uhuru at 51 per cent compared to Raila at 28 per cent.
In November 2015, Uhuru was at 40 per cent while Raila was at 29 per cent, showing an increase in the President's popularity and a drop in the opposition leader's.
Combined, Cord co-principals had a popularity rating of 35 per cent in November 2015, which declined to 32 per cent in June.
This latest poll also showed Uhuru with a performance approval rating of 68 per cent in the last three months.
This was an increase of almost 20 per cent from the November performance ratings showing Uhuru at 47 per cent.
The President's performance approval was above the 50 per cent mark in all former provinces, except for Raila's Nyanza backyard where he had 30 per cent.
In Western Kenya, 52 per cent of the respondents approved of Uhuru's performance in the last three months, in the latest poll.
-star.co.ke