How Streetwise Robbers in Kenya Outsmart Victims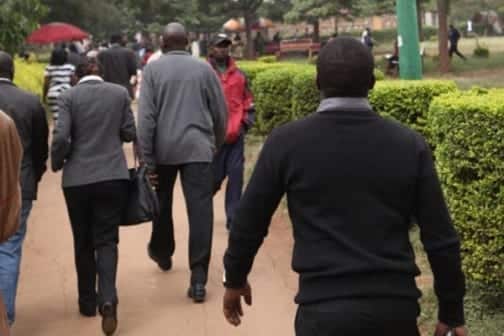 You are walking on the city streets and a smartly dressed man drops an envelope.
You run after the man and he is elated that you have alerted him about the mishap. Or another pedestrian picks it up first and strikes a conversation with you.Beware because you are minutes away from being robbed.
Gone are the days when muggers used brute force, strangling you in a dingy alley. They are now streetwise.
Today's city thief is clad in a suit or a pair of nice jeans and a designer T- Shirt, speaks fluently in both English and Kiswahili.
And if you are greedy, you become an even easier target, as one woman found. Joyce Kinuthia was walking along Tom Mboya Street on her way to the University of Nairobi for her evening class. Having recently joined campus, she had her laptop and other valuables in her back pack.
A short middle-aged man who was walking in front of her dropped a brown envelope and she decided to pick it up and give it back to the man. Before she could reach for the envelope, another young man that was walking besides her picked it up first and suggested they first find out the contents of the envelope.
"On opening the envelope, we found it had cash in it and the guy suggested that we go somewhere away from the public so that we could count it and divide it between ourselves," said Joyce.
The man led her to the alley behind Tuskys Pioneer and before they could even open the envelope, the man who had dropped it came from behind and attacked her, robbing her of her laptop, a watch, Sh4,300 and her necklace.
Chamegere Manoah has twice been the target of such robbers.
On the first time he was approached along Luthuli Avenue by a young man (in his mid-twenties) with a brown envelope at around 7.30pm.
"He claimed another man who was walking ahead (dressed in an oversize old faded jacket and black trousers) had dropped it. He was sure it was money," he narrated.
The young man quickly signalled the perceived owner of the package who was elated and actually confirmed it was money and he was going to buy some construction materials.
Manoah says the man offered to pay them for playing good Samaritan. "…so he gave the other man some money to go to Tuskys and buy whatever he wanted before and come back so that I do the same. He left him with his bag, phone and a tablet as security."
He adds: "But he changed his mind, claiming he did not look trustworthy and instead wanted me to be the first one to buy whatever I wanted. He asked me to leave him with my bag as I headed to the supermarket."
Manoah says he sensed something was wrong in the arrangement but he did not run. He instead used the same weapon they were using on him; psychology.
"I told him he had just met both of us 'Good Samaritans' so there was no way he could trust one over the other as we were both strangers not only to him but to each other. He got frustrated and left," says Manoah.
It was not until almost two months later when someone approached him with the same trick on the same path and actually saw the said owner of the package making a suspicious U-turn after the trick did not work.
On another occasion, he was leaving work on an early afternoon when a tall man in dreadlocks put his hand on his shoulders and softly asked for something. It was again at a junction on Luthuli Avenue.
The man had a cap, purple T-shirt, blue jeans, a bottle of mineral water in his hand and huge classy headphones around his neck.
"There was a stench of alcohol about him but generally he appeared decent," he says.
The man threatened to stab him if he did not give him money and kept on signalling behind him, as if he was communicating with some people.
"But it dawned on me he was alone and would not dare do anything on the busystreet. I simply jumped into the next matatu. It was all intimidation and I almost fell victim to it," he says.
Most of the muggers target people who are new to the city and don't know their way around.
Moses Ombinja had travelled from Nakuru to Nairobi to visit his aunt when he encountered the sleek talkers of the city.
ASKED FOR DIRECTION
"I was looking to get Jamia Mall from River Road and I asked someone for directions, only for him to direct me through a backstreet in the guise it was a shorter route. Little did I know what awaited me. The man gave me the option to either give him Sh3,000 or he'd rob me. I obliged," says Ombinja.
To date he still refers to the incident as baptism into the city life by fire.
It is no surprise that you'll meet another guy along Tom Mboya Street who fits thisdescription and he or she will tell you how they are short of Sh500 to reach their destination, often in Meru or somewhere in Western.
Nairobi OCPD Paul Wanjama says most incidents occur around the Tom Mboya Monument near the Kenya National Archives, Ambassadeur, the most notorious being Kariokor market. Kenyatta Avenue junction is also a hotspot.
Mr Wanjama says the police usually receive complaints long after victims have been conned.
He says most of the conmen usually monitor and target people they believe are weak and susceptible to their moves.
Approximately 10 people are arrested daily for snatching items or mugging city residents.
"They use all manner of tricks to achieve their goals. We usually hear the stories from the victims," he says.
He says the conmen are smart because they change their bases after achieving their goals, adding that it becomes difficult to make arrests because some victims report hours or days later.
"Some victims are tricked to send money through mobile phones or surrender their gadgets that are usually stolen," he adds.