Wetangula changes tune, promises to support Raila Odinga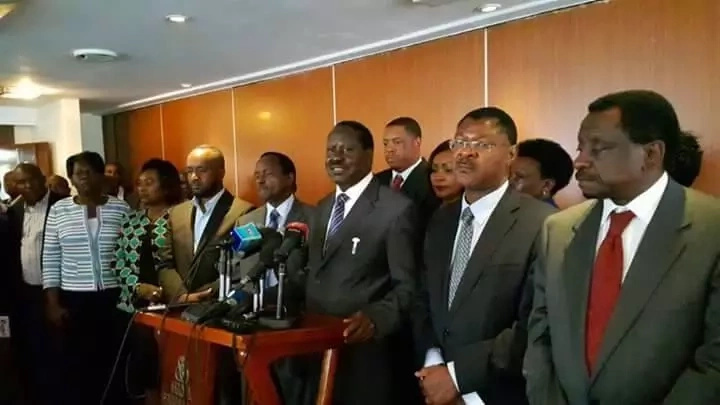 – Moses Wetangula recently attacked Raila Odinga and told him to shelve his presidential ambitions.
– Wetangula was unimpressed by Raila's tour of the Western Kenya region.
– He has now changed tune and said he will support Raila if he gets the CORD ticket.
Coalition for Reforms and Democracy (CORD) co-principal Moses Wetangula has changed tune days after attacking his colleague Raila Odinga and laughing off his presidential ambitions.
Wetangula now says that he was misquoted regarding Raila's plan to vie for the presidency come 2017, and says that he did not mean that the ODM leader should retire from politics.
The Bungoma senator and Ford Kenya leader has clarified that he meant that just like Raila and Kalonzo Musyoka, another CORD co-principal, he also wants the coalition ticket for the presidency.
"CORD has no cracks. Raila is a presidential candidate, Kalonzo is a presidential candidate, Weta is a presidential candidate and whoever is picked to fly the CORD flag we will support him," Wetangula said.
Wetangula added that all the three principals are doing is drumming support for themselves ahead of the picking of the CORD flag bearer to face President Uhuru Kenyatta in the 2017 polls.
His sentiments were echoed by Kiminini Member of Parliament Chris Wamalwa who likened the three principals to three people sleeping under one blanket.
Wamalwa said that the three are fighting for the blanket and the strongest will get the nod.
The latest change of tune comes days after Wetangula sensationally told Raila to shelve his presidential ambitions and support someone else because he has failed in the three occasions he has tried.
Wetangula further hit out at Raila for touring the Western Kenya region to popularize his ODM party. He warned the former prime minister that crowds in political rallies do not translate to votes.
"CORD inaweza kufanya vizuri kama yeye (Raila) atabadilisha nia yake, aseme amejaribu mara tatu, ameibiwa mara mbili, na wakati huu anaweza kusupport the winning team (CORD can do better if he changes his ambitions and decides to support the winning team). That will be very helpful to CORD," Wetangula said.

He added: "Sasa hivi unaona ako Western, anajaribu kupatia chama cha ODM umaarufu, umeona resistance iko. Hiyo resistance sio eti watu wamechoka na ODM, ni kwa sababu Weta hayuko. Watu wanauliza mbona umekuja bila Weta (you can see he is in Western popularizing ODM, there has been resistance. It is not because people hate ODM, it is because Weta is missing. People are asking where is Weta)."
Many speculated that the CORD is likely to split following the remarks but Wetangula has moved to array any fears that there is trouble in the opposition coalition.
-tuko.co.ke