Jubilee gives ODM headache in Kisii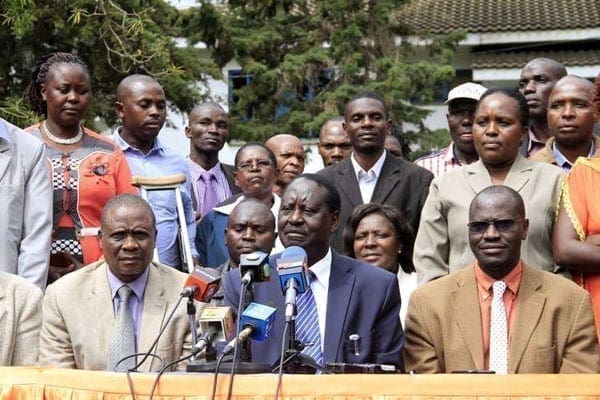 Movement may have to devise new political strategists in order to neutralise a concerted onslaught by the ruling Jubilee coalition in the Gusii region.
Recent State House visits by leaders from the region, among them Kisii Senator Chris Obure, have presented ODM die–hards and party leader Raila Odinga with a new headache.
Mr Odinga is battling hard to counter a similar onslaught in western Kenya.
It is worth noting that the region overwhelmingly voted for Mr Odinga in the last General Election.
During his surprise visit to the region two weeks ago, many political titans were missing from the welcoming party.
Jubilee Party leaders have increased their visits to the region, with President Kenyatta and his Deputy William Ruto leading the onslaught to have a 'slice of the pie' and woo voters to their side.
Senator Obure and Deputy Governor Joash Maangi, the party organising secretary in the region, are yet to meet the Cord leader since their State House visit.
The trip, which also included eight MPs from the region, drew the ire of the Cord leader, who described them as "self-seekers on a joyride mission to seek handouts.'
Mr Obure and Maangi have since criticised Mr Odinga for the remarks, saying the trip had the blessing of their electorates.
Mr Maangi says as a devolved unit, they have resolved to work with the government of the day.
"We have not stepped on anybody's toes by doing that. For now we are still in ODM," says Mr Maangi.
-nation.co.ke