I'm ready to step down in 2017 race: Raila Odinga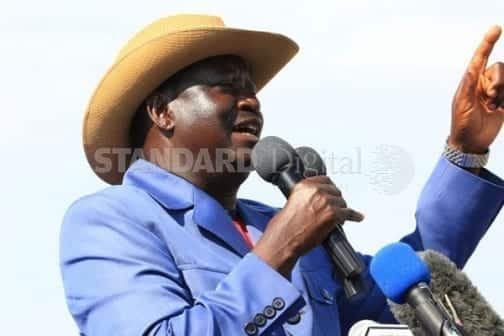 NAIROBI: CORD leader Raila Odinga has given the clearest indication yet that he could shelve his 2017 presidential ambitions if that would help send the Jubilee administration home.
In a candid interview at his Karen home in Nairobi, Raila said he was willing to support another candidate to take on President Uhuru Kenyatta if it is proved that his candidacy would be an impediment to CORD victory.
Raila also revealed that CORD is expecting unnamed political heavyweights to join the coalition to bolster its prospects of winning the elections.
He confirmed that a team of experts contracted by CORD co-principals – himself, Wiper leader Kalonzo Musyoka and Ford Kenya leader Moses Wetangula – is already studying the strengths of presidential tickets under the CORD arrangement. The team, he said, is not restricting itself to the three principals.
"Must it be me? No! I am prepared to support others if they have better prospects of beating Jubilee hands down. The whole thing is that we must not allow Jubilee to get victory when the country is in such a mess. If my candidature proves to be an impediment in our determined resolve to rescue the country from the grips of Jubilee, and if supporting another person would help, I would be more than willing to step down for them," Raila said.
He recounted his political history saying he had taken enough lessons home. He said from the 1992, 1997, 2002 and 2007 elections, it was crystal clear that a certain measure of compromises have to be made to create a winning team. He insisted he won the 2013 General Election fair and square.
"I know I can win again but if we get someone else who is better placed to do so and we agree on him, I will give my all to them," he said.
If he got the coalition ticket, 2017 would be the fourth time Raila would be gunning for the presidency. Asked what he would do differently to secure his victory, he said he is armed with invaluable lessons.
"I have run three times. I have lost once. I know I was robbed. I know how I was robbed and that's why I have insisted on electoral reforms. I know once we fix the IEBC we will be securing our victory. I am much wiser," he said.
Kalonzo and Wetang'ula have insisted they are better placed to defeat Kenyatta. The Ford Kenya leader has specifically asked Raila to shelve his ambitions and support him.
Musyoka, on his part, believes his candidacy would send Jubilee home "at the crack of dawn" on Election Day.
Below is the full interview
Q: The IEBC is now gone, indeed as you had wanted. What is your reaction to their offer to quit?
A: They have done what they should have done a long time ago. They should never have subjected the country to the sort of agony we went through. You see, our complaint against them was predicated on the misconduct of 2013 polls. Initially we wanted improvements on the electoral system and to get certain assurances that 2013 will not be repeated. Unfortunately there was no cooperation from them and we decided to take a different route of a petition. We embarked on a painstaking exercise of collecting signatures under the Okoa Kenya initiative and when we handed over the signatures, they messed them up, more or less rejected them. They then confirmed our worst fears that they could not be trusted to conduct an election and we shifted gears to public protests which led to this. I am comfortable with the political settlement and I do not wish to be harsh on them at this point in time.
Q: Why? If you had legitimate concerns against them why wish them away now with their exit?
A: No, I do not wish to drag this on forever. My view is that it was not all necessary in the first place. This matter has cost the country a lot of agony and we need closure. The best thing under the circumstances would be to accept their offer, pay whatever they are demanding to facilitate their exit from public life and attention.
Q: What sort of new commission do you hope to have?
A: In other countries, elections are conducted administratively and commissions are more or less like boards of directors. They are not executive. They are part-timers who oversee the operations of the secretariat by approving resolutions, going through reports and that kind of thing. I wish we could get to that point. The current situation of full-time commissioners is no longer tenable. Elections are only done every five years. What are they supposed to do in-between elections if not to interfere with executive work? It is no wonder that they got bogged down by procurement and tender scams to the point that they forgot they were supposed to run elections. This time round, we want clear set of limits for the new team and clear separation of roles.
Q: Isn't that what Kriegler Commission provided for and what you were supposed to implement as a principal in the Grand Coalition Government?
A: Yes, total separation of roles but it did not happen. Our role was limited to appointment of a selection panel to recruit the commissioners and it was then up to Parliament to conduct due diligence on the nominees.
Q: How do you propose to go about the selection of commissioners this time round?
A: From our experience and where we are at the moment, you cannot bring one commission to recruit another commission. The IPPG commission of post-1997 was the best we have ever had as a country. It conducted flawless elections until 2007 when its mandate expired then former President Kibaki trashed it and appointed friends to run the commission. In our view, an IPPG is the best approach. We should not lie to ourselves that there is somebody in this country who is politically neutral. If you take the Cardinal or the Bishop or the Imam to a polling booth, he will cast a ballot. The idea that they are independent is hogwash and has no bearing in political reality.
Q: It's a matter of fact that you were involved in the process of recruiting the current team. There are those who say you ought to share responsibility for their failures.
A: I agree I was involved in a way. The question is, if you are involved in creating something and you come to realise something is wrong with it, do you live with it that way just because you created it? If you give birth to a child and he turns out to be a criminal, are you barred from correcting or condemning his ways merely on account that you gave birth to him?
Q: But surely, why should Kenya endure routine disbandment of electoral bodies every time you are dissatisfied with election results?
A: We do not have to if we get it right on the model of the commission we should have. We need to separate and clearly define the roles between the secretariat and the commission. We also need an oversight mechanism for the commission. All we want is to set a good precedence and everything else will fall into place. You will walk into a polling booth knowing that the integrity of your vote is secured. A situation where people's votes are interfered with and results changed breeds despondency which then leads to extrajudicial means of asserting rights.
Q: You are gaining a reputation of a hirer and firer of all in Kenya, from former Devolution Cabinet Secretary Anne Waiguru to IEBC commissioners?
A: (Laughs) But it's not rocket science. I tell you what is obvious. I have been in government as a Prime Minister and I know what happens there. I smell monkey business from far. I could easily tell what was happening at NYS was a devious scheme. I alerted the country to the Eurobond theft as well. And right now I can tell you that betting is the next big scam of the Jubilee government. A monopoly is siphoning money out of Kenyans and investing it dubiously in other countries as if we do not have football clubs in our country. And senior people in this government are deeply involved.
Q: Where do you see this headed. Parliament has set up an inquiry…
A: It's a terrible mess. If you got an average of 6 million people betting an average of Sh100 a day, that's about Sh600 million a day. It's no wonder they are able to buy stake in Hull City and buy kits for Southampton and Arsenal. It is no wonder money is being poured on our leaders to sway them into government. Of utmost urgency is proper regulation to make the industry more competitive, ensure taxes are paid and our people are shielded from getting lost in gambling. It's all fueled by this false "hustler philosophy" which promotes primitive accumulation of wealth at the expense of other values. The danger with this is that it creates a few millionaires and millions of poor people. That's essentially what Jubilee is doing.
Q: In the past few months, CORD has appeared to be pulling apart rather than closer together. What plans do you have to address this?
A: Our coalition is firmly united and we do not need a plan to unite it. We have survived all odds. We are now beyond unity and we are preparing to win the elections.
Q: But your co-principals have made certain pronouncements implying that all may not be well among you?
A: I do not know what sort of pronouncements you have in mind. We have three elections – county, parliamentary and presidential. We are preparing at all those levels. We are discussing modalities of nominating candidates for the three levels of elections. At the presidential level, we have appointed a team of experts to find out the best combination that will send Jubilee home. We are also alive to the fact that CORD is not a static movement. We are still open to other movements and we know others will be joining us in due course.
Q: The team of experts. Are they already working and what's their schedule like?
A: They are working. We have opened it up because we know others may come in. The most important thing for you to know is that we will have a formidable force going into the elections and that Jubilee has a reason to be scared.
Q: There is a feeling that your party, ODM, is growing weaker and weaker as the elections approach….
A: The strength of a political party is measured by its membership. I do not believe we have been weakened on the account of certain leaders taking a walk. We have moved on, filled the gaps quickly and we wish those who have left us the best of luck wherever they are going. Bon voyage! We remain committed to our ideals as a party and I am most proud to lead this party.
Q: Jubilee claims to have identifiable presidential candidates all the way to 2032 and CORD does not even have a candidate for 2017.
A: It's all propaganda. I do not think anybody, any fool in any village would believe them. The thing is, they can say that now that they are drunk with power and they have the money to woo leaders. What they do not know is that they are living in a country where people are disillusioned with them. Yesterday we had to rescue Kisii MCAs after a State House visit because they could not stand the heat of the people. I think Jubilee's days are numbered. I don't see them making a headway in the midst of this anger and sense of betrayal. These cannot be assuaged by hand-outs and pronouncements.
Q: But doesn't the lack of a definite candidate for your coalition disadvantage you?
A: It's never too late. I have just come from the Democratic Convention in the US where Hilary Clinton got the mantle and the elections are in November. Our elections are next year. Nobody can say we are late.
Q: Not really a question of being late but a question of political disadvantage
A: On the contrary, it is to our advantage that Jubilee purports to have presidential candidates all the way to 2032. Front-running never assures anyone of victory. They will burn out. It's a long distance race, not a sprint. Soon they will be fire-fighting allover and panicking.
Q: In the same vein, Jubilee seems to be strategising a lot to win the Nairobi Governor's race but we are not seeing much activity from your side, why?
A: Basically, Jubilee is riding on false hopes that Nairobi is theirs for the taking. They do not seem to know Nairobi has changed. I have been an MP in Nairobi for 20 years and I have won elections here five times. Nobody else has that record. I am the best placed person to tell you about city politics. I want to tell you for free that there is no way they can beat us. They can come up with all sorts of tickets, pickings and projects. I see they have now resorted to tumbo-politics, some are demanding this and that position… oh give us the Speaker and the Governor positions so that we can support you, give you as who? How do you count your chicks before they hatch? What sort of nonsense is this? For us, we are not in a hurry. We will go through nominations and whoever wins will carry our flag in Nairobi.
Q: Between now and next year, what do you expect and what's your message to Kenyans?
A: With one year to the polls, I want to appeal to Kenyans to conduct themselves with dignity. The next one year will be a challenging period for all of us. There will be attempts to polarise and divide our people. It is always the tactic of the incumbents to put people in compartments. Ignore these attempts and stand together. We are also at a time when the country is experiencing extra-judicial killings. I want our people to be on the watch-out. Finally, I want to plead with media to remain steadfast and independent. We have fought hard for media freedom and have come a long way. We are not crying for positive coverage ourselves. We would like to be criticised when we are wrong. The emerging trend of negative and biased reports is dangerous. We need to correct that and also to check on the negative role of money in media performance.