VIDEO: Uhuru Confirms There Were 'Thieves' at State House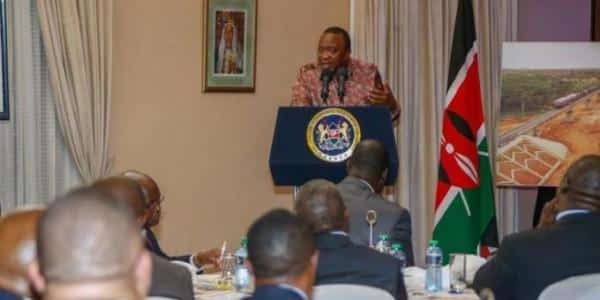 President Uhuru Kenyatta on Monday openly stated that there were thieves among attendees of the State House Infrastructure Summit, in Nairobi.
While instructing the Kenya Ports Authority (KPA) Managing Director Catherine Mturi-Wairi to rein in the rampant corruption at the port, President Kenyatta disclosed that those involved in the unscrupulous deals were just individuals present at the Summit.
"There is corruption in the port and we know it. Deal with that. Let us work together to identify who amongst the people in this room are the thieves. Wako hapa tu wanaiba (They are just here stealing)," Kenyatta said.
He congratulated Ms Mturi for being the first lady to head the Authority, urging her to make sure that fraudulent individuals do not have access to the Port.
The President added that KPA's bad image must be reverted.
During the Summit that was organised by the President's Communications team, the Ministry of Transport & Infrastructure and the Presidential Delivery Unit, Kenyatta defended the Standard Gauge Railway project that was named uneconomical by World Bank.
He noted that Kenya was well placed to know the projects that have direct impact on its people.
"Please we know what we need, we know what we must do. We are no longer going to be the dumping ground for products and goods while our people have no jobs, while our people suffer in poverty," he said.