VIDEO:Uhuru romantic stunt-Feeds the Wife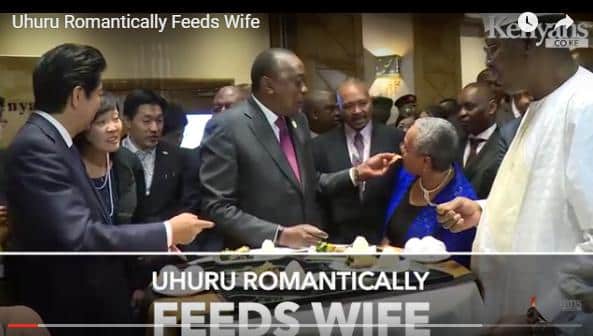 President Uhuru Kenyatta on Saturday pulled a romantic stunt on his wife during the 6th Tokyo International Conference on African Development (TICAD VI) held in Nairobi.
In a video making rounds on social media, Mr Kenyatta is seen having a meal together with other heads of state while his wife Margaret Kenyatta stands next to him with no plate of food for herself.
Upon realizing Ms Kenyatta was not eating, the President picks a chunk of food and interestingly feeds his wife.
Though the two rarely display affection publicly, they have been captured severally having intimate moments. The most memorable one being when the First Lady was lovingly received by the President after she completed the Beyond Zero marathon.