Kenya Village Voices: President Uhuru is wasting his time!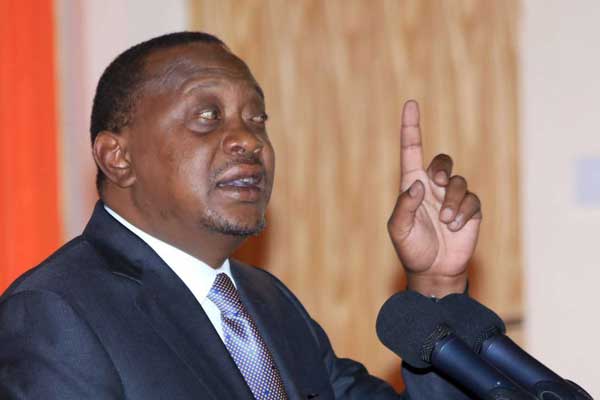 Words and actions mean nothing in Kenya: During the recent governors conference in Kirinyaga County, Raila Odinga blatantly referred to Deputy president William Ruto as a thief. All those gathered smiled and laughed as if acknowledging the accusation as a matter of fact. Few days latter during his speech at the same conference, William Ruto responded with rhymes and Kenyan proverbs. The congregation again smiled and laughed. Both leaders seemed unmoved by the words of the other; as if to say, "these are just words and words mean nothing in Kenya." Not just words, actions mean nothing in Kenya. To make matters worst, Kenyans believe the host Governor, Ann Waiguru stole from NYS!
In Kiambu County, "war" broke out after some parliamentarians invited the president to give certificates to alcoholics who apparently had gone through alcoholic rehabilitation. Gatundu south MP Moses Kuria argued that the action was demeaning to a head of state. He said Uhuru should have been in Kiambu to open a new hospital or inaugurate some major development. The irony of the whole event was that Kenyans speculate that the president is himself an alcoholic! The words deep in the villages is that majority of times when giving press briefing, he is drunk! But who cares, nothing matters in the republic of Kenya.
The common man now believes that China has taken over the country. In the street corners and those dark alleys in villages, the mwananchi has no confidence in anything the government says about anything. Kenyans have historically seen the development of the word corruption and believe it is to be treated like an alcoholic! Alcoholics never admit they drink too much. Even when drunk and sleeping on a roadside somewhere in Kosirai, alcoholics will deny they are drunk. In fact, studies have concluded that alcoholism is a sickness. In Kenya, corruption is a sickness: a curse that comes from the historical development of our culture.
Within the Kikuyu proverbs, the old sage would say, "yumbukaga na karea emeretie." Translated literally, it means, "It escapes with what it has in the tummy." When a vulture sees a dead caucus, it dives down quickly and works hard to eat as much as possible before the hyena and other predators descend on the same dead meat and dethrone it! Unless one understands the importance and foundational principle of our culture and proverbs, a person cannot understand what corruption is in Kenya and president Kenyatta is wasting his time. Those who work for the government do not hold the positions to preserve the meat, rather, they are like vultures and their purpose is to swallow as much of this 'meat" before others descend on it.
In a country of tribal cultures and traditions, western language and philosophy are nothing but spray paint that gets washed away by the emergence of the historical cultural myths and tribal proverbial storms.
Take for example a pastor who stood in front of his congregation. He chastised those gathered to work hard like him. "I believe we should all be very hard working. There is no reason why anyone in this congregation should be poor. The reason why you are poor and suffering is because you do not take the Word seriously and apply it in your lives. Look at me, my wife and I are wealthy and blessed because we work hard."
The pastor says these words to poor couples and single mothers who struggle every day to make ends meet in a country of vultures, hyenas, and maggots. The pastor in his speech is so blinded by his own sin that he forgets that the range rover he is boasting about is part of the blood and sweat of those whom he is insulting! Those poor followers of Christ whom, in obedience to the cross, give to their Lord for the advancement of His Kingdom. Then the pastor takes this offering and uses it to enrich himself and condemn those who give!
The villagers are right, in giving the alcoholics certificates; the president was wasting his time! Those who watching were hush! Hush! On the rumors: "He himself is an alcoholic!" they whispered! In the same way, fighting corruption in Kenya is but a mirage. Those who are sent to arrest the thief are themselves known to the villagers as thieves! In Kenya, the blind are truly leading the blind!
The words of Yesu Kristo remain true; "remove the log in your own eyes before reaching out for the speck in your brothers eyes." Before saving others, I must seek my own salvation and cry, "Lord have mercy on me, a sinner."
Teddy Njoroge Kamau (PhD)
HTBluff Associates
BBN TV
Diaspora Messenger Senior Columnist