4 Photos of Raila's Daughter that Have Sparked Controversy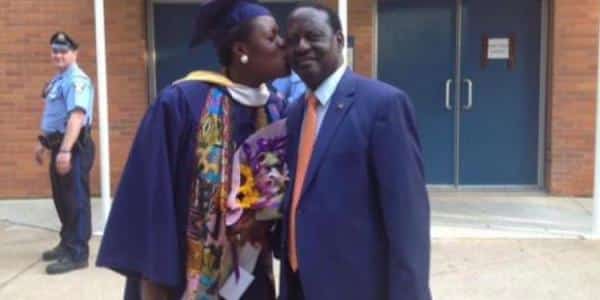 The Odinga family is without a doubt a political family to reckon with.
The loss of Raila Odinga's elder son Fidel was a devastating loss for the family because he was not just any other son – he was largely assumed to be the political heir to his father's political dynasty.
However, it would seem that the former Prime Minister's youngest daughter is being prepared to take over from her father.
Keen observers have noted the presence of Winnie Odinga in her father's campaign trail as well as her opinionated political views.
While others see the young Odinga as a role model for youths aspiring to join politics, in other quarters her presence has sparked controversy.
Indeed, long-time blogger Robert Alai, who is known to hold a brief for Mr Odinga, has openly complained that Ms Odinga's growing role in her father's campaign has edged out professionals especially in social media and strategic communications.
There have also been murmurs from ODM-allied bloggers who have complained over the enhanced role the youngest Odinga is playing in her father's campaigns.
The 26-year-old, who is often seen behind her father whenever he appears in public forums, has a degree in communications and public relations.
Unlike most of the blue-blooded children of leading politicians, Winnie Odinga has set herself apart from the pack not just relying on good genes, but taking an effort to climb up the academic ladder.
In 2013, she graduated with two degrees from Drexel University. Last month, she graduated to get her third degree – this time with an MBA from USIU.
Earlier in the year, Ms Odinga found herself on the wrong side of the Kenyan online community after an article she had posted appeared to insinuate that house girls should not be paid anything less than Sh 50,000.
Here are four photos that are raising questions on whether Ms Odinga is the lady behind Raila Odinga's throne:
Winnie (lady in blue top) accompanies her father when he visited Governor Joho's Office in Mombasa
Winnie (on the podium) speaks at a forum attended by former Prime Minister Raila Odinga
Winnie Odinga passes a message to Mr. Odinga as he prepares to make a speech at a political rally in Mombasa
Winnie accompanying her father in Mombasa
4 Photos of Raila's Daughter that Have Sparked Controversy