Blogger Alan Wadi Who Insulted President Uhuru Kenyatta Graduates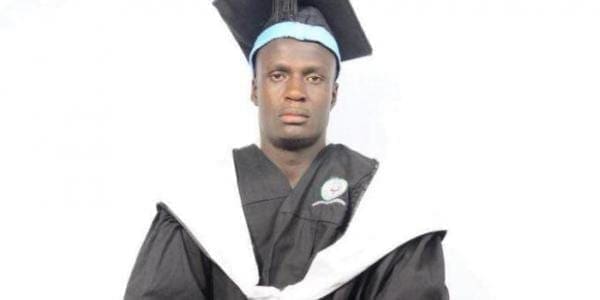 A blogger accused of insulting President Uhuru Kenyatta on social media, on Thursday finally graduated at the Moi University, Eldoret after a period of being at loggerheads with the Government.
Alan Wadi Okengo, alias Lieutenant Wadi, was excited to complete his bachelor's degree in political science despite the hurdles he had to face in his fourth year – the time he was arrested and jailed for two years over the remarks directed to the President.
"I feel relieved and happy because graduating has been my dream. The government's frustration and intimidation were just like dashing squirrel which could not make me lose the sight of the antelope."Mr Wadi was quoted by the Star.
In December 2014, Wadi – who is a fierce critic of the government – posted on his social media account distasteful remarks directed to Mr Kenyatta and another message calling for the eviction of a particular ethnic group from other regions of the country.
"The way that silly proposed bill by silly president was passed by silly Jubilee skunks and assented by the same silly president was waiting with speed and temerity of the process show how silly president is desperate to dictate and throw away our democratic space," the post read in part.
After setting himself up for trouble, Wadi tried to sneak out of the country through the Busia border but CID officers nabbed him.
In court, he was charged with hate speech and undermining the authority of the president with court documents stating: "the message he sent was calculated to bring into contempt the lawful authority of the President of the Republic of Kenya."
Lieutenant Wadi was jailed for two years after pleading guilty to the charges.
However, in January 2015 he appealed the case and was released.