Former Cabinet minister William ole Ntimama dies at his Narok home
Former Cabinet minister William ole Ntimama dies at his Narok home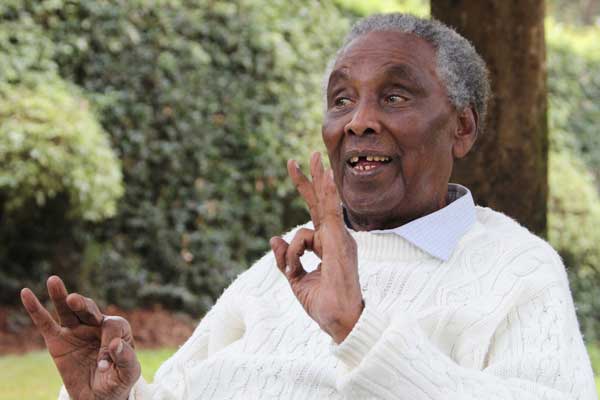 , the veteran politician and former powerful minister from Maasailand, is dead.
The de facto leader of the Maasai passed away at 10.30 pm on Thursday night and a family source said the body of Mr Ntimama, 88, was taken to the Lee Funeral Home.
According to Narok County Police Commander Jillo Galgalo, Mr Ntimama had been receiving treatment at his home for an illness in the last one month.
A close relative said the politician complained of a headache shortly after dinner on Thursday.
On Friday, politicians trooped to the Lee Funeral Home in Nairobi to view the body.
Former Cabinet secretary Joseph ole Lenku said Mr Ntimama's death is a blow to the Maasai community and the country.
Former Interior minister Julius Sunkuli described Mr Ntimama as a committed leader.
Former Transport Licensing Board chairman Hassan ole Kamwaro said he had talked to Mr Ntimama on Thursday evening.
"I was shocked to learn of the death of Ntimama because he just called me yesterday [at] 5pm and he was jovial when we talked," he said.
Mr Ntimama's last public appearance was on August 22 when he endorsed Narok West MP Patrick Ntutu to vie for the governor seat in next year general elections.
He was speaking at the wedding ceremony of Mark Ntutu, son of Narok Senator Stephen ole Ntutu at their Nkorinkori home in Narok West constituency.
He said he decided to rally his supporters and the populous Purko clan to back Mr Ntutu after he portrayed good leadership qualities.
Mr Ntimama served as chairman of the Narok County Council for 15 years and as MP and minister for 25 years.
He notably served in the Local Government ministry and is remembered for telling the Kikuyu to "lie low like an envelope."
He had an on-and-off political relationship with President Daniel Moi, with the latter detaining him at some point in 1982.
Mr Ntimama supported opposition leader Raila Odinga in the last elections but recently led leaders from the Maasai community to State House in Nairobi where they met President Uhuru Kenyatta and promised to join the Jubilee Party.
He is said to have educated himself and has one of the largest home libraries in Kenya.
-nation.co.ke
Former Cabinet minister William ole Ntimama dies at his Narok home