WHY MAASAI ELDERS ARE DEMANDING APOLOGY FROM RAILA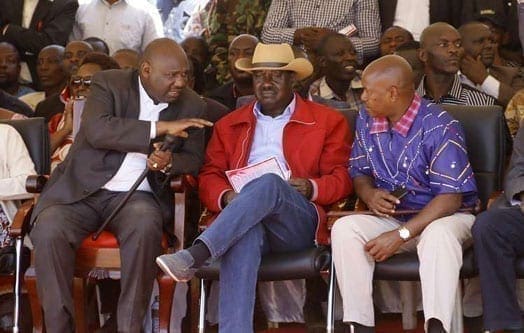 The Maasai Council of Elders are demanding an apology from ODM leader Raila Odinga over remarks he made at the burial of the late William Ole Ntimama.
Addressing mourners who attended Mr Ntimama's burial ceremony at his Motonyi home last week, Mr Odinga claimed the late Ole Ntimama called him immediately after his visit to State House and assured him of his support for the Orange Democratic Party shortly before his death.
But the elders from Narok, where Mr Ntimama hailed from, now say that Mr Odinga's remarks have portrayed the late Maasai leader as a liar, further accusing him of disrespecting the dead.
"The Maasai culture dictates that when an elderly man dies, his last words spoken publicly stand; and no one should claim anything to the contrary. Even if it's true that he spoke with Mr Odinga before his death, the late would still have convened a meeting to communicate the change of political inclination," said elder Kasaine Ole Esho of the Orkila Orok Council of Elders.
The elders convened a press conference in Narok town where they said the remarks made by Mr Odinga had portrayed Mr Ntimama as a person who had no stand and lacked direction.
CURSE RAILA
"He should seek the forgiveness and blessings from Maasai elders by apologizing to the community," said Mr Esho.
Two days ago, another group of elders from Kajiado, led by elder Julius ole Ntaiya, threatened to curse Mr Odinga over the Ntimama phone call claims.
"After State House, he (Ntimama) called me and said Raila, don't think I have defected to Jubilee… he said there is one area where government is hurting us in Narok and that is why we have gone there because we need their help. We are burying Ntimama with our flag of ODM," the Cord leader said during the burial that was attended by over 50,000 mourners, including President Uhuru Kenyatta.
His remarks drew the wrath of Jubilee leaders present, with Cabinet Secretary Joseph Nkaissery and Majority Leader Aden Duale, terming them as lies.
Mr Nkaissery termed it a gimmick by the Cord leader to win Maasai support.
"It is important as a leader to speak the truth because our leader Ntimama always said the truth," a visibly angry Nkaissery said.
MAASAI KINGPIN
On August 8, the late Ntimama led leaders from Narok and Laikipia counties to State House where he announced that the Maasai community was prepared to join the Jubilee alliance.
Among those who accompanied Ntimama as the time Narok Senator Stephen ole Ntutu, Laikipia East MP Mathew Lempurkel and Emurua Dikirr MP Johana Ngeno.
On the Thursday, the Maasai Council of Elders in Narok joined their Kajiado counterparts to demand an apology from the ODM leader saying he had disrespected both the late Ntimama and the Maasai community.
They argued that the Maasai kingpin had publicly revealed during the homecoming of Geothermal Development Corporation chief executive officer Mr Johnstone Ole Nchoe that he had shifted his political affiliation to Jubilee.
"Mzee Ntimama and Maasai MPs present at Nchoe's homecoming ceremony including Mr Ntutu (Narok West), Mr Korei Lemein (Narok South) and Mr Lemanken Aramat (Narok East) reassured President  Kenyatta they would rally the region to vote for him next year," said Mr Esho.
-nairobinews.nation.co.ke