ODM leader Raila Odinga forced to deliver speech in another venue following power blackout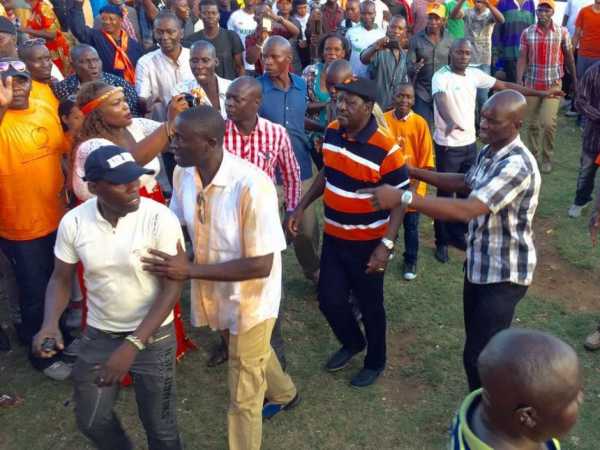 ODM party leader Raila Odinga was forced to relocate to another another venue to deliver his speech following a power black at Mama Ngina grounds where the party was celebrating it's 10th anniversary.
The power went off just as the party leader was about to make his speech.
The blackout forced, that lasted for about 45 minutes, forced Raila to deliver his speech at an adjacent venue, which was meant for the party's night celebrations.
Popular Tanzanian artists and arch-rivals Diamond Platinum and Ali Kiba were set to use the stage for their performances.
Raila had just been endorsed to be the party's presidential candidate.
The blackout prompted accusations of sabotage by the Jubilee government by party supporters.
"Jubilee is seeing this event live and timed the blackout to occur just when Baba wanted to speak," shouted one of the over 50 MPs who attended the celebrations.
However a statement from the Kenya Power and Lighting Company stated that power supply in Mombasa had been stable and reliable through out the day contrary to allegatios that there was a blackout.
"Our technical team have checked and confirmed that power supply to Mama Ngina Drive where the Orange Democratic Party held its rally had a stable power supply." Engineer Daniel Tare, General Manager said in statement.