A KENYAN WOMAN,RACHEL WAIIKYA PASSES AWAY IN UK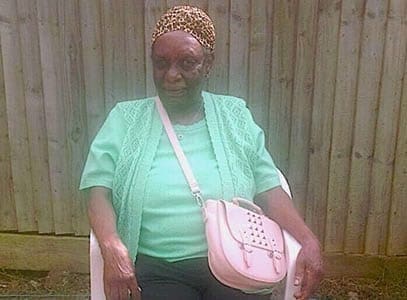 It is with great sadness that we announce the demise of our beloved mother Mrs Rachel Waiikya Warner at Queen Elizabeth Hospital, Woolwich, South London, UK. She suffered 2 cardiac arrests on the afternoon of Friday 14th October, after 2 weeks of bravely fighting she took her last breath at 6am on Friday 28th October 2016.
She was the beloved wife of Mr Ian Warner (Eltham). A kind and caring mother of Karen Wambui (Glasgow), Alice Wanjiru Gamanga, Margaret Wanjiku Wanjine (Kenya), Janet Wakanyi, Duncan Karanja, Julie Njoki (Kenya), Douglas Kiongo, Catherine Njambi, Pamela Muthoni and Donald Ngotho. Mother in law to Mary Chesang (Kenya), Joseph Wanjine (Kenya), Mercy Njeri, Magdaline Murigi, Peter Kinyanjui, Latif Gamanga and Saidi Mohammed (London).
She leaves behind many grandchildren and unto many she was a great grandmother. Family, friends and relatives are meeting for prayers at 99 Middle Park Avenue, Eltham, SE9 5HS from 6pm-9pm.
Those who wish to contribute financially, please feel free to do so at Barclays Bank through Mrs AW Gamanga Sort Code: 209857, Account number: 53773256. When contributing please put reference as 'funeral expenses'.
For further enquires please contact: Douglas Kiongo – 07949421288, Anthony Warner – 07469941580 OR Janet Waweru – 07903596698.
-Misterseed.com