How Uhuru was Forced to Dance Without Shoes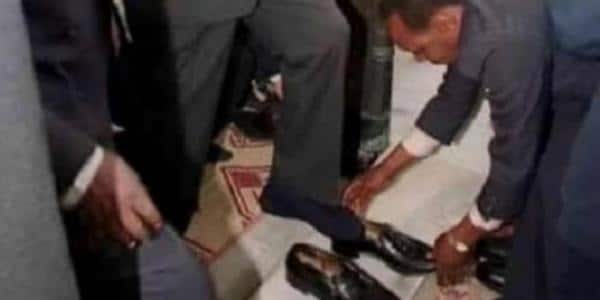 Since taking over power in 2013, President Uhuru Kenyatta has on several occasions sparked controversy for breaking protocol and being too casual when interacting with citizens.
He has continually demystified the tough, no-nonsense notion and perception that people had regarding the Presidency and has made it easy to interact with him.
This character, however, seems to have developed way back during his childhood days as narrated by those who had the privilege of interacting with the young Kenyatta.
A man who served as a driver to former President Jomo Kenyatta (Uhuru's father) describes Uhuru as a boy who was always concerned about the plight of the less fortunate.
Mugo Karuga, who was attached to Mzee Kenyatta's security detail at his Gatundu home in Kiambu County, recalled a day when Uhuru pulled a surprising stunt by dancing barefoot in front of his father.
According to Karuga, a group of children walking barefoot had been invited to entertain the First Family in Gatundu when Uhuru also removed his shoes and joined the dance catching everyone by surprise.
"As the children started entertaining the President, I saw Uhuru rush to the dais and whispered something to his father. The boy immediately removed his shoes and joined the choir,'' he recalled.
The former driver revealed that after Uhuru's act, he was instructed by Kenyatta to take the children to a Bata shop and buy each of them a new pair of shoes.
"Had Uhuru not requested his father to remove his shoes and join the children in the choir, perhaps Mzee would not have seen the need to have the children who entertained him get shoes,'' Karuga added.
The officer, who has since retired, further expressed delight at how young Uhuru was caring and ensured he received the best-served meals while on guard at the Gatundu home.
"My young friend would not let me go hungry while manning the gate. He would always ensure the cooks served me from the family kitchen,'' he added.
As he celebrates his 55th birthday on Wednesday, the Head of State equally continues to charm many with his easy-going personality especially when it comes to enjoying entertainment and shaking a leg.
-kenyans.co.ke