Kenya fronts CS Amina Mohamed for AU chair post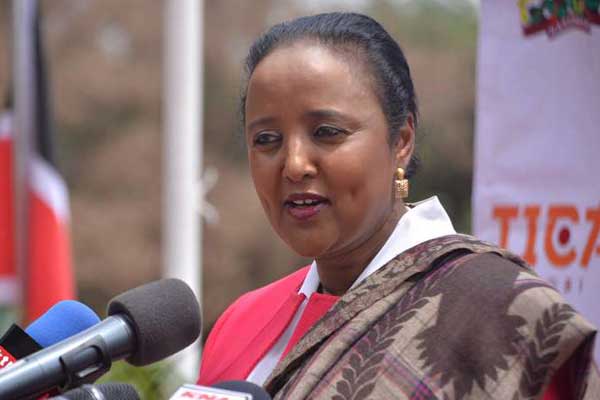 The Kenyan government has submitted the name of Foreign Affairs Cabinet Secretary Amina Mohamed to be the next head of the African Union (AU) Commission.
Ms Mohamed will face Agapito Mba Mokuy of Equatorial Guinea, Abdoulaye Bathily of Senegal and Botswana's Pelonomi Venson-Moitoi.
President Uhuru Kenyatta revealed Monday that Kenya had submitted Ms Mohamed's name for the post.
"I see that Amina is doing well. We have nominated her to be the AU chairperson," President Kenyatta said at State House when he rose to address the Youth Summit.
Other than her rich diplomatic profile, Ms Mohamed stands a chance since no Eastern African has ever held that position.
The election of members of the AU Commission held in Kigali, Rwanda, in July 2016 was suspended because, after seven rounds of voting, none of the three contenders for the position of chairman obtained the required two-thirds majority.
The post became vacant after the expiry of the term of South Africa's Nkosazana Dlamini-Zuma, who had been at the commission's helm since 2012 and did not apply for a second term.
The panel recruiting the team will by October 14 circulate the list of candidates in readiness for the election in January 2017.
Ms Mohamed has been in public service for 29 years and was once Kenya's ambassador/permanent representative at the Kenyan Mission to the United Nations in Geneva.
The UN secretary-general then appointed her the body's assistant secretary-general and deputy executive director at the UN Environment Programme (Unep) in Nairobi.
The minister has led Kenya in organising global conferences, starting with the Global Entrepreneurship Summit addressed by US President Barack Obama, the World Trade Organisation's 14th ministerial conference and recently the 14th United Nations Conference on Trade and Development (UNCTAD) conference, all in Nairobi.
Her ministry has overseen several visits by world leaders to Kenya, including President Obama, Israeli Prime Minister Benjamin Netanyahu, his Indian counterpart Narendra Modi, Italy's Matteo Renzi and Pope Francis.
-nation.co.ke