KQ makes Sh900m operating profit,net loss down to Sh4.78 billion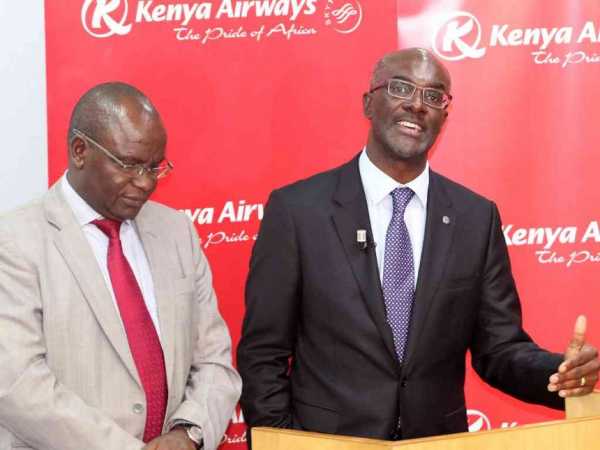 Kenya Airways has announced an operating profit of Sh900 million, bringing net loss down to Sh4.78 billion for the half year ended September 30.
Financial statements showed the loss was down to Sh7.13 billion from Sh11.95 billion posted in the same period last year.
Chief executive Mbuvi Ngunze said the loss reduction was underpinned by an increase of passenger numbers by 89,000 to 2.2 million.
It was also attributed to lower operating costs made possible by fleet rationalisation in line with the 'Operation Pride' recovery strategy.
"The business is taking steps in the right direction," Ngunze told an investor briefing on Thursday morning.
During the review period, he said, the airline flew nine per cent more hours than the same period last year with seven fewer wide-body aircrafts.
Financial statements show the airline reduced its direct operating costs by 5.8 per cent to Sh32.75 billion from Sh34.79 billion last year mainly driven by fuel prices.
Fleet ownership costs reduced by 35 per cent to Sh8.49 billion from Sh13.14 billion. This included additional aircraft impairment of Sh1.8 billion.
The reduction in capacity resulted in a revenue drop of 3.5 per cent to Sh54.74 billion from Sh56.72 billion. Kenya Airways lifted less tonnage due to decrease in wide body capacity, thus cargo revenue dipped 20.9 per cent.
The airline reduced its direct operating costs by Sh2 billion to Sh32.8 billion due to fuel prices.
The company has been struggling to keep a balance of its operations and profits after recording pretax loss of $293 million (Sh29.7 billion) for three consecutive years up to its financial year end of March 2015.
-the-star.co.ke