VIDEO: Kalonzo's Sarcastic Message to Uhuru on Mashujaa Day
VIDEO: Kalonzo's Sarcastic Message to Uhuru on Mashujaa Day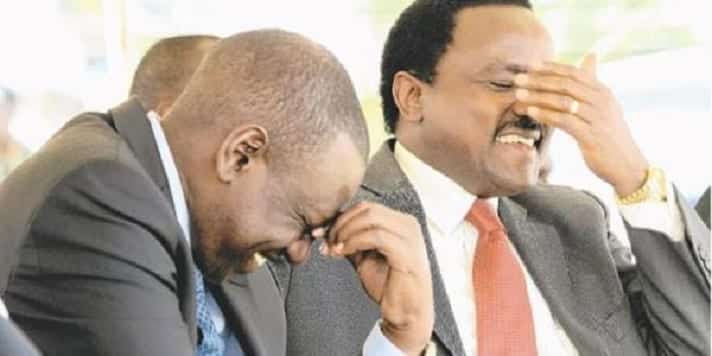 Wiper leader Kalonzo Musyoka on Thursday sent a seemingly sarcastic message to President Uhuru Kenyatta during the 7th Mashujaa Day celebrations in Machakos County.
The CORD co-principal was given a chance to give remarks by Deputy President William Ruto but instead cleverly used the moment to hit out at the President over rampant corruption and ultimatums being issued to him by defectors.
Musyoka mockingly informed the Head of State that he had formally handed over the defectors to Jubilee but promised that he (Musyoka) would still beat him in the 2017 election even with the new support.
The Wiper leader further delved into the President's previous remarks about corruption which have been interpreted to mean he had given up on the fight against the menace.
Mr Musyoka requested that he be allowed to kick out the Jubilee government during the upcoming polls promising to in turn help end the graft that has troubled Mr Kenyatta.
"I will end this corruption disturbing you if you allow me to send Jubilee home. Don't be surprised to see all those betraying Kenya go home next year," he said amid laughter.
In a rejoinder, Kenyatta assured that he was ready for healthy political competition based on ideas and not tribalism urging leaders to avoid diving the country.
In his address, the Head of State also announced that he had set free 7,000 petty offenders to give room for the judiciary to jail high-profile offenders such as those guilty of corruption.
He further reiterated that national holidays would continue to be held in various regions across the country as was promised during the Madaraka Day celebrations in Nakuru earlier in the year.
VIDEO: Kalonzo's Sarcastic Message to Uhuru on Mashujaa Day