Raila crowned Kalenjin elder in Ruto's backyard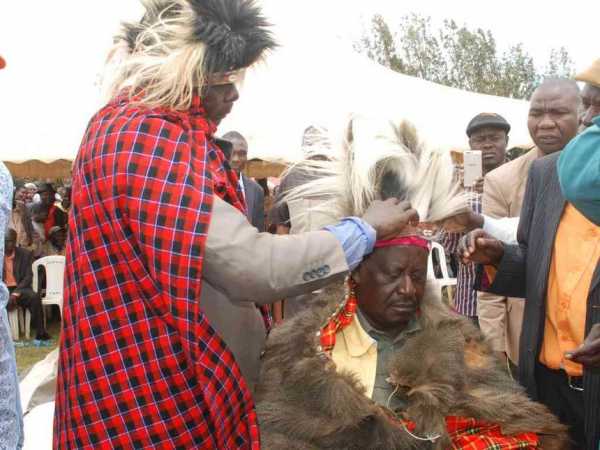 ODM leader Raila Odinga was crowned a Kalenjin elder on Tuesday, in DP William Ruto's backyard which is also a Jubilee stronghold.
Raila was given blessings to run for president in next year's poll when he visited Meibeki Karona trading centre in Uasin Gichu county.
He later went to Tot in Kerio Valley to address peace rallies following cases of banditry that have left several dead and many injured.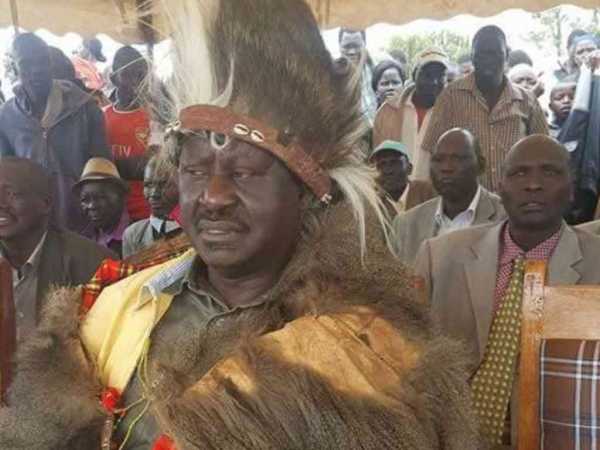 ODM leader Raila Odinga during a ceremony at Meibeki Karona trading centre in Uasin Gichu county, where he was crowned a Kalenjin elder, November 8, 2016. /COURTESY
Raila urged the Kalenjin community to help him remove Jubilee Party from power by supporting his presidential bid.
He said he will soon go on an extensive tour of the region to woo locals into backing him ahead of the August 8, 2017 general election.
The opposition leader said the Jubilee government has not fulfilled its pledges to all Kenyans including Kalenjins.
Raila further said the ruling coalition has been "presiding over corruption" as most Kenyans live in abject poverty.
"They have stolen left, right and center through National Youth Service projects, the Eurobond and other scandals," he said.
"They are yet to tell us where Eurobond money disappeared to along with other shares of public funds."
The ODM leader said the government has not implemented its pledge to construct 10,000 kilometers of roads in all parts of the country.
"Support me next year…I am capable of streamlining things in this country. I need you to help me remove Jubilee from power in 2017," he told a cheering crowd.
The opposition chief reiterated that he did not frame Ruto, who faced crimes against humanity charges at the International Criminal Court.
He said the case was used in campaigns against him in the region in 2013 yet there was no way he could have betrayed Ruto over the 2007/8 post election violence as they were both in ODM.
"You, the people of Rift Valley denied me votes because of false claims that I had fixed Ruto. That was not true at all, 'said Raila.
Raila was with MPs including John Mbadi (Suba), (Millie Odhiambo (Mbita), Simba Arati (Dagoreti North ) and Andrew Toboso (Butere).
Mbadi, who is ODM national chairman, asked Kalenjin elders to talk to the Deputy President so he can work with Raila if he expects to ascend to the country's top seat.
The MP said Ruto had no chance of succeeding President Uhuru Kenyatta through Jubilee Party.
"They have already placed many obstacles on his way. The only way he can succeed is if he works with Raila ahead of 2022," he said.
He said the community's leaders should ask the DP to quit the party and return to ODM, adding reports indicated there was a scheme to block Ruto from succeeding Uhuru.
-the-star.co.ke