VIDEO: Ruto Disses Wetangula Again Over Domestic Violence
VIDEO: Ruto Disses Wetangula Again Over Domestic Violence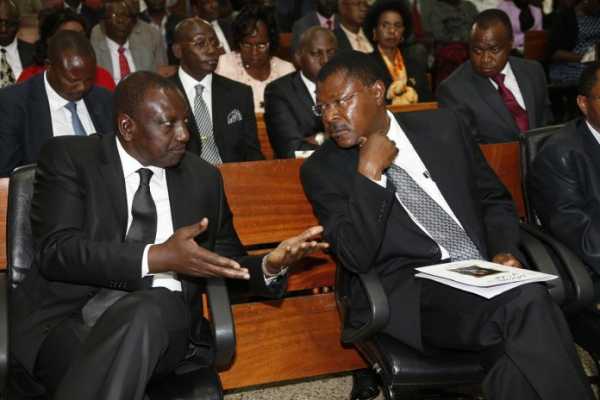 If there's any Kenyan politician that can be compared to Donald Trump in the chills department, it has to be Deputy President William Ruto.
Addressing residents of Kirinyaga during their stopover with President Uhuru, Ruto took another swipe at opposition Cord, particularly targeting their top leaders.
Ruto attacked each Cord principal individually, using derogatory statements as usual.
"Kwanza hawajui watapigia nani kura. Hawajui (kama) ni yule mzee tunaskia wa kitendawili, ambaye tunasikia amebaki na risasi moja," he said referring to Raila Odinga.
On Kalonzo, Ruto called him out for being a watermelon.
But the DP reserved the best/worst for Wetangula. "Ama yule mwingine ambaye mnaskia ako na matatizo ya nyumbani na bibi yake.." he said.
Watch the clip and brace yourself for a bare knuckle campaign season.
VIDEO: Ruto Disses Wetangula Again Over Domestic Violence