You've let me down, Raila tells Luo Nyanza politicians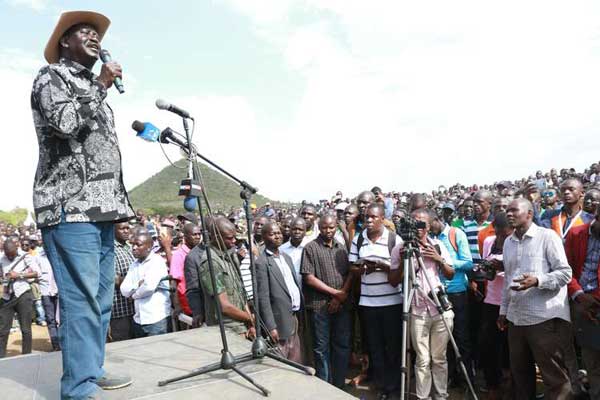 Cord leader Raila Odinga has told politicians in Luo Nyanza that violent campaigns, hooliganism and bickering among them could injure his presidential ambitions.
Mr Odinga said while he has managed to convince members of other communities to support his presidential bid, politicians from his own backyard (Luo Nyanza) are busy bickering and causing violence thus frustrating his leadership.
"I am saddened with a section of Luo Nyanza politicians who have resorted to engage in petty politics, violence and propaganda in their campaigns instead of upholding peace. This has made other communities to question my leadership skills," stated Mr Odinga.
Mr Odinga was speaking Tuesday at Nyamira Kango in Bondo Constituency where he expressed confidence of ousting the Jubilee administration.
"Kenya is big and I have to tour all parts seeking for votes. I do not have time to come back to the Luo counties to mediate among the rival leaders. It is high time the leaders upheld decorum in their campaigns," said Mr Odinga.
Mr Odinga assured the Luo Nyanza voters that he stands a better chance (compared to other opposition aspirants) to win the 2017 elections which are only seven months away.
He stated that he can only win the next elections if politicians and voters from his backyard give him total support by acquiring ID cards and registering as voters.
At the same time, Gem MP Jakoyo Midiwo has asked all politicians in Luo Nyanza to dedicate their time and resources towards campaigning for a Raila presidency.
Mr Midiwo asked all the leaders seeking to be MPs, governors, senators and women representatives to shelve their political interests and campaign for Mr Odinga.
"It is illogical if we struggled so much and became elected in our respective seats yet Raila fails to become president. We need to ensure that Raila is the next president as he has [one] bullet [remaining],"said Mr Midiwo.
-nation.co.ke