Mudavadi faces resistance in Mumias after dismissing Jubilee projects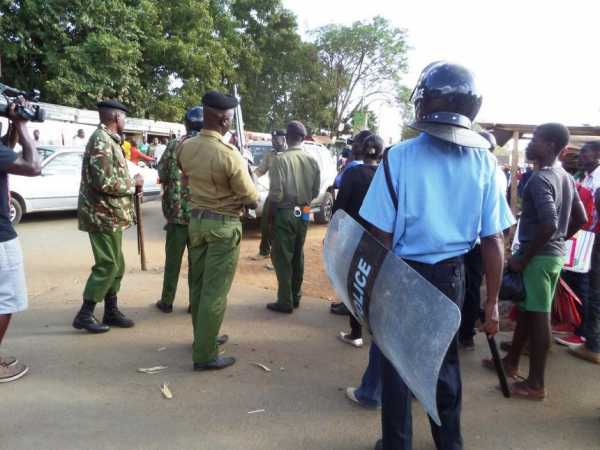 ANC leader Musalia Mudavadi on Sunday faced resistance from residents of Mumias town after he dismissed projects launched by the Jubilee administration.
Mudavadi had accused President Uhuru Kenyatta of launching projects that were not budgeted for during his tour of Western region last week.
Speaking at the Bishop Hannington ACK church in Mumias, the former deputy prime minister said all projects launched by the president in his tour of the region were fake.
"The projects are not reflected in the national budget and will not take off. Let the president desist from playing divisive politics with the people of Western region. It is wrong for the Head of State to lie to Kenyans in the name of launching projects when in real sense it is mere public relations," said Mudavadi.
He asked the people of Western region to reject Jubilee and support the National Super Alliance (NASA).
But former ODM national youth leader Rashid Mohammed and politician Stanley Livondo mobilized locals to protest against Mudavadi's criticism in Mumias town.
Anti-riot police officers were quickly deployed within the town to prevent confrontations between Mudavadi's followers and those of Livondo and Mohammed.
At one time, youth disrupted Mudavadi's speech as they responded with Jubilee!!! Jubilee!!! Jubilee!!!! mantra.
Mudavadi held another stop over at Ekero market where he addressed his supporters under security.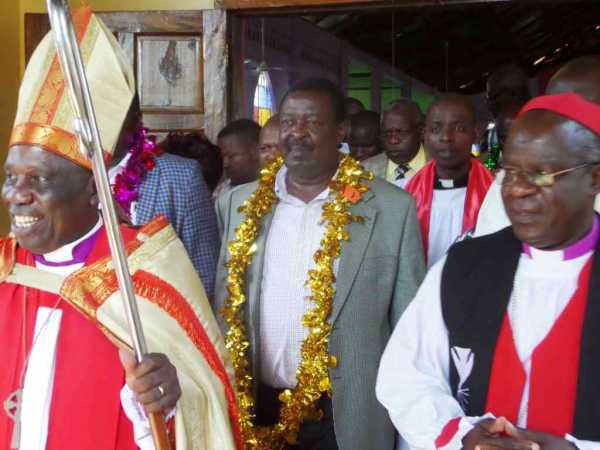 Bishop Beneah Salala of Mumias ACK church with ANC leader Musalia Mudavadi and other leaders during the ordination ceremony at the Bishop Hannington cathedral in Mumias on Sunday.
The president and his deputy toured Western region last week.
He launched six roads projects, issued residents of Mt Elgon with title deeds, launched Sh2 billion water project in Mumias, commissioned the opening of Panpaper mills and launched medical equipment at the Kakamega and Busia county referral hospital.
"The president launched genuine projects that will benefit our people. There is no way a road worth Sh1.16 billion that is under construction will be a fake project from the president," said Rashid.
He said Mudavadi had failed the Luhya community after serving as vice president, deputy prime minister and minister in the two governments of former presidents Daniel Arap Moi and Mwai Kibaki.
"Let him show the people of Western any single project he brought to his people when he served in the government in various capacities. He remained selfish and worked hard to benefit himself" said Rashid.
Livondo urged the people of Western to work with the government of the day in order to realize development.
He said the region was lagging behind in terms of development because of supporting the opposition.
Mudavadi faces resistance in Mumias after dismissing Jubilee projects